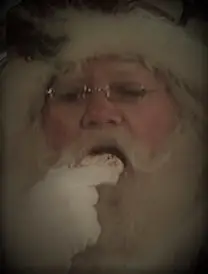 I could see that Clumsy the Elf was sad.
Do you remember all the times he has tried to help bake Christmas cookies?
I watched him from my window. He was walking through the Christmas tree forest. His head was hanging down low. He had a frown on his face. He kicked the snow as he walked. I felt sad too.
When one of my elves are sad it makes me very sad too. But keep reading to find out what happens next!
Suddenly, he stopped.  He picked up his head. Then Clumsy jumped up and down on the spot. He danced a little elf dance. He strutted straight towards the kitchen with a smile on his face.
I talked with Clumsy later. He told me this was the moment he chose to never give up. He chose to bake Christmas cookies that were yummy, no matter what!
Would you like to hear what happened next?
Clumsy went to the kitchen. He decided to bake Christmas cookies for me all by himself. This was not going to be easy. He believed in himself. He believed he could do it.
First he got a bowl and…
… he almost dropped the bowl.  But he caught it!  Whew!
Next he scooped some flour. He walked to the bowl. HE TRIPPED! The scoop of flour flew up into the air and…
…landed in the bowl. Whew!
Then he got an egg. Carefully he walked to the bowl. He lifted his hand and the egg DROPPED. It missed the bowl. It fell towards the floor and…
…Clumsy caught the egg on his elf shoe. He picked it up and cracked it into the bowl.  Whew!
Bake Christmas Cookies With This Secret Ingredient?
It was at this point in our story that Clumsy forgot exactly what he added. He did tell me that he almost dropped each ingredient. Luckily he got them all into the bowl.
The last ingredient was chocolate chips. He picked up the bag of COAL CHIPS. The bag of yucky COAL CHIPS. The bag of super yucky COAL CHIPS. He walked to the bowl. He tipped the bag. The COAL CHIPS fell out. Towards the bowl they fell. Clumsy read the bag as they were falling.
He screamed. He threw the bag. And then he kicked the bowl. The COAL CHIPS landed on…
…the table. They all just missed the bowl.  Whew!
But, the bowl fell off the table. It flipped once. Nothing fell out. It flipped twice. Not one drop was spilled. Then it flipped a third time and…
…landed on the floor, but everything was fine!  Whew!
Clumsy managed to get the cookies into the oven and bake them for me. As I write this story for you I am eating Clumsy's cookies. They are the most delicious, super yummy, amazingly awesome Christmas cookies I have ever tasted.
Mrs Claus asked Clumsy for his recipe. But…
… guess what? He forgot to write it down.  I had better enjoy these cookies before they are all gone.
But, Clumsy the Elf did not give up and you should never give up too.  (Especially to bake Christmas cookies for Santa! 😉 )
Santa Claus
P.S. Do you remember a time when you had to do something very difficult like bake Christmas cookies that are extra yummy? Can you remember a time when you did not give up? You can click here to tell me or, scroll down to see what other people wrote.
A right jolly old elf, in spite of myself. I love Christmas, children, the North Pole, Mrs. Claus, elves, reindeer, snowmen & the list goes on!
My title is CEO: Christmas Elf Online.
Merry Christmas!