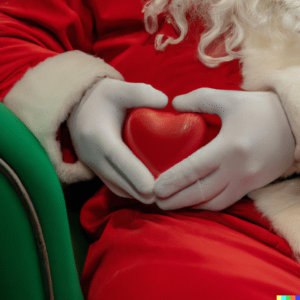 Many of my little friends ask me, "Santa Claus, what are some good presents for Moms and Dads"?
Then some of my friends ask me, "Santa Claus, why do you not bring as many presents for Mummies or Daddies or other grown-ups?".
Well, the answer may surprise you!
Keep reading to find out more!
You see, there is one present that grown-ups want.  Mommies and Daddies.  Grandmas and Grandpas.  Aunts and Uncles.  All Grown-ups!
It is a present they want more than anything else in the world.  But it is not a present elves can make.  It is not a present Santa can bring.  It is not even a present money can buy!  But it is a present only you can give them!
What they would like most of all this Christmas is just to know how much you love them and how much they mean to you.  Trust me!  I have known the grown-ups in your life for a long time!
The Best Christmas Presents for Moms and Dads
So here is what I want you to do: I want you to make up some gift cards for all the grown-ups you love.  You can make a gift card that promises to do your Mom's fingernails.  Or one to make your Dad breakfast in bed.  You could have one that promises to clean your room.  Or even one to do the dishes for a week.  You can make lots of cards for all kinds of things!  If you do not know how to spell a word, draw it instead.
Make the gift cards as pretty as you would like.  Put stickers on the cards.  Do fancy drawings on them.  Draw a picture of the person it is for on it!
Then you have to do this on your card. Write "I LOVE YOU!" on it!  That is what makes it special.
You can put your gift card in an envelope.  Or, fold it gently for them to open.  Then hide your card.  It will be a big surprise when you give it to them Christmas!
It will be the best Christmas present they have ever had!  I promise you.
Did you know even Mrs. Claus gives me special gift cards?  She gives me gift cards for… cookies!  But the part I like best is when she writes "I Love You" on the card.  😊
Because, you see, Christmas is all about family and love.  As long as you have that, you will always have Christmas.  Presents and stuff like that are nice.  But, they really are just the trimmings on the Christmas tree!
Merry Christmas!
Santa Claus
P.S. What would you put on a gift card you made?  (You can leave a message for me.  Or, scroll down to see what others have written!)
A right jolly old elf, in spite of myself. I love Christmas, children, the North Pole, Mrs. Claus, elves, reindeer, snowmen & the list goes on!
My title is CEO: Christmas Elf Online.
Merry Christmas!