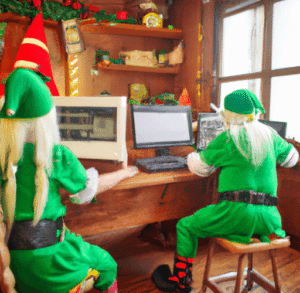 Merry Christmas!  I love to get caught up in Christmas activities, and I know you do too.  Do you know who else likes Christmas activities?  The elves.  You might know that already, but if you do not, then let me tell you a little story.
I logged on to my computer today.  There was a lot of elf glitter on the keyboard!  I was sure that they had been up to some elf mischief again.  When I checked my computer, I found that they had sent a message to you all.  You may have received a silly Christmas message recently.  Thankfully, elves are warm-hearted creatures.  They only meant to do good.  Their message was kind of funny.  I had a good chuckle with Mrs Claus as we read it.
After reading the message, I wondered what else they had been up to.  So I checked.  They had found my website.  emailSanta.com has lots of wonderful Christmas activities.  I wondered if they had tried any of them.
Christmas Activities Galore!
I checked the naughty and nice list first. As you may have guessed, the list was gone.  Luckily I keep an extra copy.
They probably took a look at my Christmas countdown clock, even though all elves know how many days it is until Christmas.
I did find three letters to Santa from three elves in my inbox.  They had each sent me an email, even though we all live at the North Pole together.
Those elves had tried a lot of the Christmas activities.  They might have checked the Santa tracker, which would have tracked me to my bedroom, or perhaps even the bathroom.  Ew!
Maybe they checked out my Santa Claus Christmas blog, to see if their message was there.  There is so much to do there that they probably did not have time to try everything.
If you have time, you can see me on my Santa webcam, listen to Christmas music, play Christmas trivia games, read children's emails to Santa, read silly Christmas jokes, see my Christmas photos, and so much more. There are Christmas activities for everyone.
I should check on those mischievous elves, but before I do, I have a request for you.  There are so many fun Christmas activities on my website, but which ones do YOU like the most?  Are there any you don't like? Do you have an idea for more Christmas activities?  I would love for you to share with me.
Santa Claus
P.S.  What do you like about my Santa website?  You can click here to tell me or, scroll down to see what other people like or don't like about it.
A right jolly old elf, in spite of myself. I love Christmas, children, the North Pole, Mrs. Claus, elves, reindeer, snowmen & the list goes on!
My title is CEO: Christmas Elf Online.
Merry Christmas!