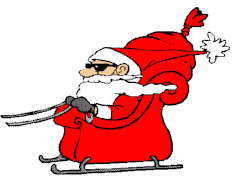 IT IS CHRISTMAS EVE!
Hello boys 👦🏼 and girls 👧🏽 around the world!  Finally there is only 1 more sleep until Christmas morning!  That's right, only 1 MORE SLEEP until the best day of the year is here!  (Can you hear the elves cheer!?)
I am putting on my warm clothes.  Mrs. Claus made sure I have my special Santa Claus suit.  Of course, I have my boots.  Then Mrs. Claus gave me my mittens as well as my nice warm hat.  Now I am all ready!  And of course the elves put the nose warmers on the reindeer.
As soon as I finish writing this I will hop in my sleigh!  After all, the sleigh is all packed.  The reindeer are ready to go also.  Before we takeoff, I just wanted to send you a special message.
A Christmas Eve message from Santa!
"Make sure you leave out,
A stocking or shoe,
And leave some room,
For a present or two!
Remember some goodies,
For Santa to chew,
And go to bed,
When the adults ask you!"
Oh yes, I have a special treat for you!  Make sure you visit emailSanta.com tonight.  Then you can help "Elf Control" track me on my Christmas Eve trip and watch this year's Santa Snooper!  The Santa Snooper is a special webcam I put on the front of my sleigh so you can track me on my famous flight tonight!  Of course, all kinds of funny things happen every year so I know it will be fun to watch.
There will also be live texting!  That is, you can see what the elves and I are saying to each other!  🔔 Jumping Jingle Bells 🔔, it is going to be a lot of fun!
Remember also to leave out your 😈 Naughty or Nice certificate 😇!
Well, the Head Elf is telling me it is Jingle Time!  Everything is ready!  It is time for me to go! I just have to give Mrs. Claus a big kiss goodbye!  💋💋💋<<SMOOCH!>> 💋💋💋
"And now I am on my way!
With reindeer guiding my sleigh.
With presents and toys,
For good girls and boys,
To open Christmas Day!"
Merry Christmas To All And To All A Good Night!
Santa Claus
P.S.  Tonight, please leave your message for me beside the treats!  Merry Christmas!
A right jolly old elf, in spite of myself. I love Christmas, children, the North Pole, Mrs. Claus, elves, reindeer, snowmen & the list goes on!
My title is CEO: Christmas Elf Online.
Merry Christmas!