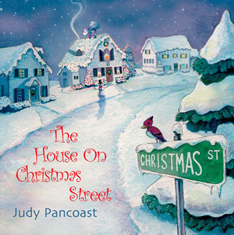 Do you like Christmas music?
Do you like Christmas lights?
Do you like Christmas songs AND Christmas lights together?
You are not alone!
The elves go bonkers when they hear Christmas music.  They laugh.  They sing.
The elves also go bonkers when they see blinking Christmas lights.  They jump up and down.  They dance.
But do you know what makes elves really go bonkers?  Well, watch the video below!
My good friend Judy Pancoast also likes Christmas music and lights.  She wrote the song "The House on Christmas Street".  That is the song in the video.  I am not sure if she is as bonkers as the elves though.
Do you think the people who live in the house are bonkers?  They sure have a lot of Christmas spirit!
Oh boy, I am really getting the Christmas spirit too!  Only 41 sleeps until Christmas!  I am so excited!  I think will go eat a cookie.  I have to wait until all the elves around me stop going bonkers anyway.  🙂
Merry Christmas!
Santa Claus
P.S.  What do you think elves do when they go bonkers from Christmas music and lights like that?  (Scroll down to leave your message for me or to see what others have written!)