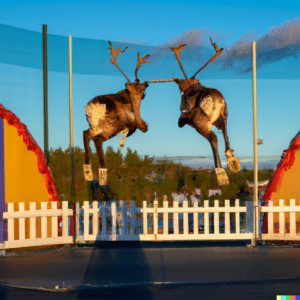 Today was Day One of the Christmas Olympics Reindeer Games at the North Pole!
We were having so much fun I almost forgot to write in my blog!  HHHOL!
Would you like to read about what happened today?
The big event today was the Trampoline Team contest.
Clumsy the Elf and Rudolph are a trampoline pair. Pairs have to follow the same routine. They have to jump together. And they have to flip together. Then they have to twist together. And they have to match each other all of the time. It is like a bouncy dance routine!
Clumsy and Rudolph tried a new routine today. Trampoline rules say you can bounce in lots of ways. You can bounce from your feet or your bottom! You can bounce onto your back or front. Or you can twist and turn in the air. And you can bounce as high as you want! That's about 33 feet high in the Olympics!
Trampoline moves have special names. Did you know there is a move called a Rudolph?  Rudolph thinks it has the best name ever!  HHHOL!
Christmas Olympic Reindeer Games Trampoline Event
Clumsy and Rudolph had three new moves to try. One was called the Christmas Star. One was called the Snowball. And one was called the Santa Special.
The Christmas Star went well. They bounced very high. They stretched out their arms and legs to make a star shape.
The Snowball went well. They curled up into a ball and bounced on their bottoms.
The Santa Special was much trickier. They had to bounce very, very high. Then they had to do a somersault in the air. Then a double twist on the way down. And then they had to come down feet first. Just like Santa coming down the chimney!
OOPS! Clumsy came down bum first.  His clothes and hat went flying!  HHHOL!  Never mind Clumsy. Practice makes perfect!
Thank goodness I never go down chimneys like that!
Merry Christmas!
Santa Claus
P.S.  Do you like to bounce on things like a trampoline?  Can you think of a new trampoline move? What would you call it?  You can click here to tell me about it or, scroll down to see what other people have written!
A right jolly old elf, in spite of myself. I love Christmas, children, the North Pole, Mrs. Claus, elves, reindeer, snowmen & the list goes on!
My title is CEO: Christmas Elf Online.
Merry Christmas!