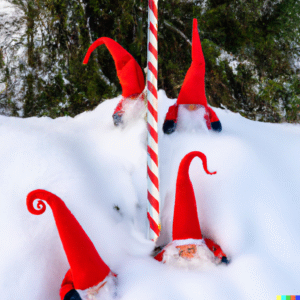 It was another fun day at the North Pole Olympics!
We all know that my special reindeer can fly, don't we?
But did you know that elves can fly too?  HHHOL!  Today was a BIG surprise for everyone!
Kissy the Elf thinks that the pole vault is the most exciting Olympic sport. It is her dream to be a pole vault champion.
So, she made two Christmas trees and some tinsel into a bar.  Then she made a pole from a candy cane!
Now all she had to do was vault over the bar.  Her first vault was just over two feet.
But Kissy wanted to vault much higher.  She wanted to be an Olympic star and vault over eighteen feet!  To do that, Kissy needed a longer pole.
The elves in the toy workshop made an extra-long candy cane for her.  It was eighteen feet long!
But there was a problem.  The "pole" was now too long for Kissy to carry!
She asked eight of her friends to help her.  Kissy held one end and another elf held the other end.  The other seven elves held the bit in the middle.
They all held the pole on their shoulder and started to run.
F a s t e r,   faster!,  faster!!!
Kissy got ready to vault.
PING!
Flying Elves!
Kissy was going up, up, up!  But uh-oh! All of the other elves were also going up, up, up … they forgot to let go of the pole!
All nine elves were now flying through the air.  Then down, down, down!
They all slid down the candy cane with a bump!
Kissy did not vault over the bar.  But she did become one of the first ever flying elves!
Merry Christmas!
Santa Claus
P.S.  What would you like to be the first ever to do?  You can click here to tell me about it or, scroll down to see what other people have written!
A right jolly old elf, in spite of myself. I love Christmas, children, the North Pole, Mrs. Claus, elves, reindeer, snowmen & the list goes on!
My title is CEO: Christmas Elf Online.
Merry Christmas!