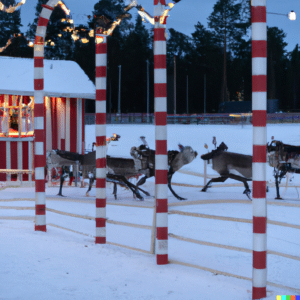 Did you know a marathon race is 26.2 miles long?
At the North Pole today there was a marathon reindeer race.  It was a very exciting race.
And it was a very long race.
Keep reading the story to find out who won!  (It might surprise you! 😉)
The marathon started at the North Pole.  The race route was marked with candy cane posts and fairy lights.  It was a big loop of exactly 26.2 miles.
Well, it should have been!
The elves had marked the course. But Clumsy the Elf was in charge of the map. Oh dear!  His map reading skills were not good.
The candy cane posts and fairy lights did not follow a big loop. The race route was more like a big Christmas tree shape.  A very big Christmas tree – and at least 36 miles long!
The reindeer kept going and going and going… And going!
They were getting very tired.  They were getting very hungry!  The race was so long they thought they would never make it to the finish line.
They had all slowed down to a very slow jog.  But then they sniffed something in the air.
How To Finish A Reindeer Race
It was the smell of Mrs Claus' cookies.  They could smell a yummy carrot and raisin cookie smell.
The jog got faster and faster and faster.
All of the reindeer started to sprint for the finish. It was a photo finish on the line!
And the winner was….
A tie!  It was decided that all of the reindeer were winners. They shared a huge plate of carrot and raisin cookies as their prize.
Merry Christmas!
Santa Claus
P.S.  What kind of cookies would keep you going and going and going?  You can click here to tell me about it or, scroll down to see what other people have written!
A right jolly old elf, in spite of myself. I love Christmas, children, the North Pole, Mrs. Claus, elves, reindeer, snowmen & the list goes on!
My title is CEO: Christmas Elf Online.
Merry Christmas!