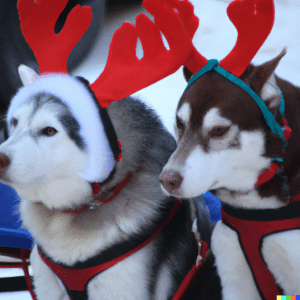 Every weekend before Christmas, the elves put on big Christmas parades.  Did you know that?  We have a lot of fun at the Christmas parades.  After all, everyone at the North Pole loves a Christmas parade!  Do you?
Tonight, the Sporting Elves put on their big Christmas parade.   These elves make the sports things kids' ask for at Christmas.   Would you like to hear more?
Well, the Sporting Elves Parade always starts the same.  It starts with elves riding snow sleds pulled by – – – dogs!
"That is right, Kelly!  It is the North Pole Precision Dog Sled Team!  Some Santa Buddies pulling snow sleds wear a hat with reindeer antlers.  Some others wear red reindeer nose warmers!"  It is quite funny.
Then there are elves on figure skates in pretty dresses.  They are really good at skating.
There are also elves playing hockey and ringette.
Then the hockey elves put on the pretty dresses and the figure skaters play with the hockey sticks.  Those elves are so silly!
There is a big ski jump float too.  The elves put on skis.  They go down a big hill.  They jump right into a big tub of – – –  marshmallows!  Everyone cheers! Hurrah!
There are elves on bikes.  And, there are elves on scooters.  They like to ring their bells.
There are elves on skateboards and snowboards!   There are even elves driving around in little – – – boats!
Christmas Parades Elves Wear Their Helmets Too!
Of course, all the elves wear their helmets.  They put fancy Christmas things on their helmets.  Some have candy canes.   Some helmets have reindeer antlers.   And some have flashing Christmas lights!
Another float has elves doing yoga.   I do not know how they get themselves all twisted up like that.  Clumsy the Elf teaches them how I guess?!
A really fun float has all the little elves playing "Duck, Duck, Goose" on it.  Mrs. Claus loves that float.
I always think the float where the elves are curling with fruitcakes is funny.
The next float has a trampoline on it.  You should see the elves jump and bounce! They do fancy tricks.  Some even bounce in their – – – snowshoes!  Boing!
There used to be a basketball float.  But, the elves are all too short.  No one ever scored a basket!
Merry Christmas!
Santa Claus
P.S. Is watching Santa at Christmas parades fun? Do you like Christmas parades? Do you play sports?  What sports do you play?   (You can leave a message for me.  Or, scroll down to see what others have written!)
A right jolly old elf, in spite of myself. I love Christmas, children, the North Pole, Mrs. Claus, elves, reindeer, snowmen & the list goes on!
My title is CEO: Christmas Elf Online.
Merry Christmas!