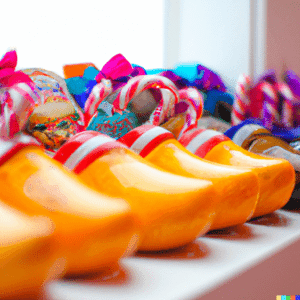 I love to say Merry Christmas. After all, it fills me with happiness. When I hear someone else saying it, I always smile. One thing I love about Christmas is when Mrs. Claus bakes her Christmas cake. Every Christmas, she bakes a wonderful Christmas cake. Then, every Christmas Eve, I eat some. Right before I leave to deliver presents, we have a slice each. That is because it is one of our Christmas Traditions.
That got me thinking. What other Christmas traditions are there?
Christmas Traditions
Did you know, that in the Philippines there is a giant lantern festival? It always happens on the Saturday before Christmas Eve. People try to make the most colorful lanterns. Villages and cities become extra colorful during the festival.
In Germany, there are always Christmas markets. Small huts are set up. Some sell food. Another sells yummy drinks. Then others sell gifts. A Christmas market is a wonderful place.
In North America, the UK, and many other places, people use lights. They cover their houses in lights. Some lights are big. But some lights are small. I love to see colorful lights while I fly through the sky.
In Iceland, children put shoes on the windowsill. I put little treats in the shoes for them. I hope they eat the treats before they wear the shoes!
In Australia, people sing Christmas Carols on the beach. What a cool Christmas Tradition! Actually, it is not cool; it is hot. After all, Christmas is in summertime in Australia. They have a lot of sun on Christmas day.
There are lots of Christmas Traditions. They happen all over the world. Some people send Christmas Cards. Some people bake treats. Also, some people spend Christmas with family. Some people spend Christmas with friends.
My Special Christmas Tradition
I like my Christmas Tradition. I know that other people eat Christmas cake, but with Mrs. Claus it is special. After all, eating Christmas cake with Mrs. Claus on Christmas Eve feels great. It is our special tradition.
How about you? Do you have a special Christmas Tradition? Is there something special that your family does that no one else does? Do you have something you love doing at Christmas? Please tell me all about your special Christmas Tradition.
Merry Christmas,
Santa Claus
P.S.  What are your Christmas traditions? Leave me a message to tell me your Christmas traditions.  After that, scroll down to see everyone else's Christmas traditions!
A message from the elves:
You can write Santa a quick message here.  But, if you want Santa to reply, then you should send a letter to Santa from this web page.  Then Santa will reply to you fast as reindeer fly!
A right jolly old elf, in spite of myself. I love Christmas, children, the North Pole, Mrs. Claus, elves, reindeer, snowmen & the list goes on!
My title is CEO: Christmas Elf Online.
Merry Christmas!