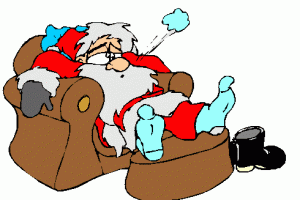 And that's another Christmas Wrap for Santa Claus!
Mrs. Claus, the elves, reindeer and I all hope you had a wonderful holiday season.  We sure did at the North Pole!
It was another crazy Christmas season.  But, then again, when you live with elves and reindeer and snowmen and…  Well, you get the idea!  There's always something crazy and wonderful going on at the North Pole!  HHHOL!
But now, everyone here is getting ready.  We are getting ready for a long winter's nap! HHHOL!
Then we are getting ready.   We are getting ready for next Christmas!  So, I will not be writing any more messages for a while.
But, would you like to know when I start writing again?  You can if you would like to.  Just go to this page to get a reminder from the elves to come back next year.
(If you are using any email/spam filters, white lists etc., make sure you set them to allow email from emailSanta.com and ChristmasSantaClaus.com.  Otherwise you won't see our reminder! 🙁 )
Merry Christmas and a Happy New Year!
Santa Claus
P.S.  Did you like reading Santa Claus' Christmas Blog?  Do you think I should blog again next Christmas?
(You can leave a message for me.  Or, scroll down to see what others have written!)
A right jolly old elf, in spite of myself. I love Christmas, children, the North Pole, Mrs. Claus, elves, reindeer, snowmen & the list goes on!
My title is CEO: Christmas Elf Online.
Merry Christmas!