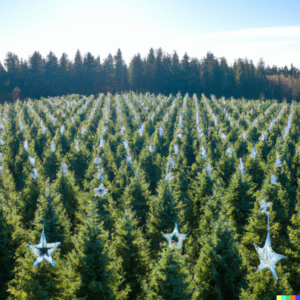 We are all excited.  There will be a new little reindeer soon!  When a reindeer is born we are all happy.  It is part of the Circle of Life.
But, my good friend Venice asked something.  She asked if the little reindeer could be called Greta.  Greta was Venice's Mom.  Greta died last Christmas.  It was very sad.
Venice made me think about something we do at the North Pole.
We have a lot of Christmas trees at the North Pole.  The elves keep the trees looking nice.  But, the elves never put a star on top of a Christmas tree.  The stars are special.
Mrs. Claus has something special too.  It is a book.  When a baby is born, she writes the baby's name in her book.  That way, we always think of them.
But, when someone dies, we do something special.  We did it for Venice's mother, Greta.  We did it for Kiara's baby brother, Will.  Likewise, we did it for Ashley's Dad.  And we did it for Julia's grampa, George, too.
When someone dies we have a special service for them at the North Pole.  Everyone puts on nice clothes.  We all meet in the Great Hall of the Elves.  The elves that watched them thru out their life will stand up.  Then the elves will tell us some stories about them.  There are stories that are happy.  Some stories are sad.  Some are funny.  It reminds us and makes us think of them.
The Circle of Life Forest
Then, Mrs. Claus gets her special book.  She gently takes their name out of her book.  She puts their name on a star.
Next, everyone stands up.  I gently take the star from Mrs. Claus.  I carry the star past everyone.  Everyone follows me outside.  I carry the star to a special Christmas tree.  It is just for that person.  Then I gently put the star on top of the Christmas tree.  Then the star lights up.  It shines brightly for all to see.  That way we always think of them.
Rudolph and the reindeer also do something when a special pet dies.  That way we always think of them too.
The price for having known someone who died is sadness when they leave us.  But it is a small price for all the happiness they gave us, even if it was for just a little while.
When someone dies, it is ok if it makes you sad.  But, it is good to talk about being sad.  It helps you feel better.  If something makes you sad you should talk to your family about it.  Or, you can call some great people to talk to.
Santa Claus
P.S.  If there is someone you are missing this Christmas, you can leave a message to tell everyone about them.  Or, scroll down to see what others have written.
A right jolly old elf, in spite of myself. I love Christmas, children, the North Pole, Mrs. Claus, elves, reindeer, snowmen & the list goes on!
My title is CEO: Christmas Elf Online.
Merry Christmas!