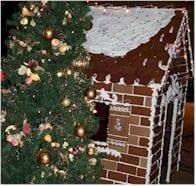 Christmas gingerbread is a tradition at the North Pole. A tradition is something special you do every year.  At the North Pole, we have many Christmas traditions.
Mrs. Claus has traditions too.  A special one of hers is to build a great big gingerbread house.
Everyone knows Mrs. Claus makes the best Christmas baking ever!  She makes the best gingerbread ever too!  Everyone at the North Pole knows when she is making it.  You can smell it everywhere!  Yum!
Everyone wants to help build the gingerbread house!
The pieces of gingerbread for the house are big.  They are very big.  Even bigger than an elf!  The elves all have to lift together to put the pieces of the house together.  Mrs. Claus makes a great big bucket of icing to glue to the pieces together.
Clumsy the Christmas Gingerbread man!
One year Clumsy was helping her with the icing.  He climbed up on his ladder.  The other elves held the gingerbread walls together.  Clumsy reached out as far as he could with his big brush.  He wanted to put icing on the gingerbread wall.  He reached even further until… SPLAT!  He fell off the ladder.  He fell right into the great big bucket of icing!
When he came out of the bucket he was covered in icing and gingerbread.  "Yum", he said.  "This tastes really good!"
And that is where Christmas gingerbread men came from!  HHHOL!
Now isn't that a funny story?  Well, that is how Christmas traditions get started at the North Pole after all. 😉
Merry Christmas!
Santa Claus
P.S.  Do you have any Christmas traditions you do with your family?  Is falling into a bucket of icing one of them?  (You can tell me about your Christmas traditions here.  Or, scroll down to see what others have written!)
A right jolly old elf, in spite of myself. I love Christmas, children, the North Pole, Mrs. Claus, elves, reindeer, snowmen & the list goes on!
My title is CEO: Christmas Elf Online.
Merry Christmas!