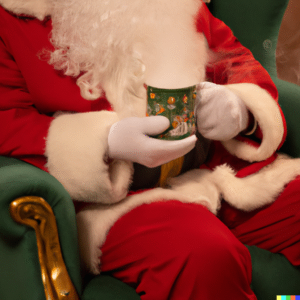 It sure is cold here in the North Pole!
I like to stay wrapped in my nice, warm red coat.
Even then, I get the shivers at times.
Would you like to hear a tasty way I  like stay toasty warm?
Well, Mrs. Claus found a great way to fix my shivers!  Nothing warms me up like a nice hot drink.  Yum!  A nice hot drink is a great way to get warm!
This Christmas, my hot cocoa is a little bit different though, thanks to Clumsy.
Yes, Clumsy the Elf invented a wonderful new kind of hot drink!
How did that happen?  Well, Clumsy the Elf came in for a visit one day.  He saw that Mrs. Claus was making me a big pot of hot cocoa.  He got very excited.
"Yum!  Hot Cocoa!" he said, jumping up and down.  Jump!  Jump!  Bump!  Oops! Splash!
Clumsy bumped a jar of peppermints that was sitting on the shelf.  The peppermints fell right into Mrs. Claus's pot and melted!
"Oh no!"  I said.  I thought my drink was ruined.
Clumsy Hot Cocoa!
Then I tasted it.
It was the best I had ever had!  Who ever thought that melted mints would make it taste so good?  It was so yummy I laughed out loud with toasty, warm happiness! HHHOL!
Of course, now everyone is trying different things in their drinks.  Mouse the Littlest Elf likes ice cream in hers.  Mrs. Claus likes a dollop of fresh whipping cream plunked right on top.  But, I have to admit, I still like Clumsy's creation the best!
Nice work, Clumsy!
Merry Christmas!
Santa Claus
P.S.  Do you you like hot cocoa?  Have you ever invented anything by accident?  You can click here to tell me or, scroll down to see what other people have written!
A right jolly old elf, in spite of myself. I love Christmas, children, the North Pole, Mrs. Claus, elves, reindeer, snowmen & the list goes on!
My title is CEO: Christmas Elf Online.
Merry Christmas!