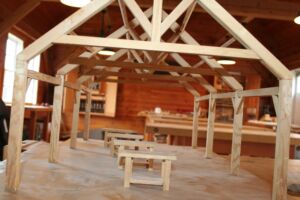 The builder elves have been hard at work.  They are putting together the sets for the upcoming Christmas show.
They built a fake fireplace and furniture for a pretend family room.  Then they went home for the night.  They were pooped!
Clumsy the Elf wanted to prove that he was good enough to join the building team.
When the other elves were gone, Clumsy went back into the workshop.
He worked long into the night to finish the family room set.
It was hard to do all the work by himself!  He couldn't hold boards up and nail them at the same time.  A board would fall then a nail would pop out. But, he did his best.
He finally finished the walls.  He was so tired he fell asleep right on the floor.
This morning, the other elves came back to work.  They found Clumsy curled up and snoring.  The elves also saw all the work he had done.  They giggled.
The builder elves woke Clumsy up and pointed to his work.  Clumsy looked at the elves and wondered why they were giggling.  Then he started giggling.
What Happens When You Are Clumsy With A Hammer?
The whole set was tilting to one side!
Clumsy realized that he could not do such a big project on his own after all.
The elves had to start all over.  This time Clumsy got help from a few other elves.  They worked as a team.  They were done in no time – and it was done right!
Now the actor elves will have loads of time to practice before the big performance.
Merry Christmas!
Santa Claus
P.S.  How was Clumsy with a hammer? Did he need help? Have you ever tried to do a big job by yourself?  Did it work out better than it did for Clumsy? You can click here to tell me about it or, scroll down to see what other people have written!
A right jolly old elf, in spite of myself. I love Christmas, children, the North Pole, Mrs. Claus, elves, reindeer, snowmen & the list goes on!
My title is CEO: Christmas Elf Online.
Merry Christmas!