Crazy Kittens for Christmas!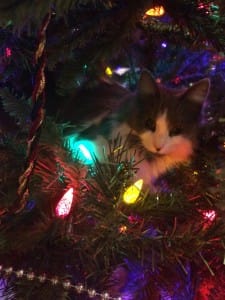 Did you read my last message about Mrs. Claus and the kittens?
Well Mrs. Claus and the two new kittens are having a grand time!
She loves them to bits.
The elves love them to bits.
Myself, I'm starting to think they're a bit of trouble!
Of course, I love the two new kittens to bits too.  It's just I think they might be on the Naughty List if they were children!
Yesterday, I was walking by a Christmas tree.  Suddenly…
The whole tree started to shake and to shimmer!
The bulbs started to flicker.
And some lost their glimmer!
So I looked deep inside
and what did I see?
Two little eyes
peering out back at me!
With a little meow,
so lively and quick,
I knew in a moment
It wasn't a trick!
There it was,
A furry cat paw!
Yes, it was!
I saw what I saw!
But how could this be?
How did a kitty
get stuck in my tree?
So I went on one knee
And pulled with a jerk,
A fuzzy little kitten
So no one'd get hurt.
It gave me a meow.
And it gave me a purr.
It licked some needles
out of its fur.
It looked for Mrs. Claus.
It was looking for her.
So it shot down the hall,
In a flash, in a blur!
As it ran down the hall
I thought to myself,
Now that was bizarre!
"Merry Christmas"!
Au revoir!
Crazy Kittens for Christmas!
I think the kittens' silliness is starting to wear off on me!
I hope I don't ever get stuck in a tree!
The only thing was, I didn't know what to call the kitten!  The two kittens don't have names yet.
So I asked Mrs. Claus,
"What should we do?
We can't just have cats
called Cat One and Cat Two!"
She gave me a smile and thought for awhile.
"We can ask the kids!
They'll give us some names
with glamour & style!"
So there you have it!  My question for you!
What should we name our Cat One and Cat Two?
I hope you can come up with some great names for our two new kittens!
Santa Claus
P.S.  What do you think we should call the kittens?  You can click here to tell me or, scroll down to see the names from other people!
A right jolly old elf, in spite of myself. I love Christmas, children, the North Pole, Mrs. Claus, elves, reindeer, snowmen & the list goes on!
My title is CEO: Christmas Elf Online.
Merry Christmas!