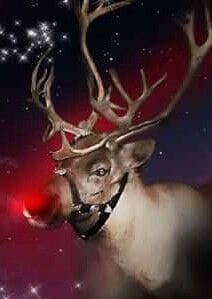 We have exciting news at the North Pole from a Daddy reindeer and a Mommy reindeer!  It is about the little reindeer!
You did know a little baby reindeer was coming, right?  Would you like to hear the news?
Well, I should start by saying something.  The little reindeer still has not been born!
But, I am excited.  Mrs. Claus is excited.  Mommy and Daddy reindeer are excited.  This is just too exciting!  Are you excited?
And we have good news!  Mommy reindeer is doing very well.  She was at the reindeer doctor yesterday.  The doctor said everyone is doing very well.
The reindeer doctor listened to Mommy reindeer's tummy.  He listened to the heartbeats.  Then he heard something special.  He heard jingle bells!  Now, when the reindeer doctor hears jingle bells, the little reindeer will be a flying reindeer!  That is exciting news!
Daddy Reindeer hears Baby Reindeer Noises
I think some of you heard the jingle bells too.  Do you remember hearing the "little reindeer sounds"?
Little reindeer heartbeats and jingle bells!
That was the sound of reindeer heartbeats!  If you listen really hard you can hear jingle bells too.  Can you hear the reindeer heartbeats and the jingle bells?
And there is more exciting news!  Mommy and Daddy reindeer told me they want everyone to know who they are now.  Are you ready to find out?  OK, the Mommy and Daddy reindeer are…
Oops, wait a minute.  A little boy who lives close to you was being naughty.  I have to put him back on the Naughty List.  I'll be right back…
OK, what was I going to say again?
Oh, yes.  The Mommy and Daddy reindeer are… Rudolph and Clarice!
Rudolph and Clarice LOVE all the great names you have given them!  They say it is really hard for them because all the names are so good. You can still leave Rudolph and Clarice a message with your name for the little reindeer!
Merry Christmas!
Santa Claus
P.S. When do you think the little reindeer will be born? (You can leave a message for me. Or, scroll down to see what others have written!)
A right jolly old elf, in spite of myself. I love Christmas, children, the North Pole, Mrs. Claus, elves, reindeer, snowmen & the list goes on!
My title is CEO: Christmas Elf Online.
Merry Christmas!