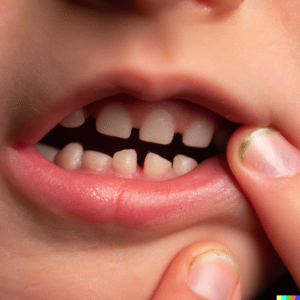 Did you ever lose a tooth?
Mouse, the littlest Elf, is getting to be a big girl!  She is only 106 years old, which is still young for a Christmas elf.  But that is about when elves start to lose their baby teeth and get their "big elf" teeth.
All her elf friends had lost a tooth already.  She was the last one she thought.  She waited and waited and tried wiggling and wiggling. But none of her teeth were loose.  "Santa Claus," she asked me "Am I ever going to lose a tooth?"   "Of course you will.  You just have to be patient," I said.
Then one day, when she was eating her supper, she felt a little wiggle, a tiny little wiggle in one of her front teeth.  She jumped up and down and came running to see me.  "Santa Claus!  Santa!  I am going to lose a tooth!"  "Here let me have a look," I said.  The tooth had the tiniest little wiggle to it.  "You better go see Hermie the Elf Dentist, just to be sure," I said.
Hermie the Elf Dentist told Mouse that she did not have a loose tooth.
She had SIX loose teeth!  She was so excited.  "But remember, " said Dr. Hermie, "you have to be patient.  The teeth will come out when they are ready."
Well, Mouse is not very patient, especially when it comes to losing teeth!  She tried everything.  She ate lots of corn-on-the-cob.  Then she ate lots of apples.  She even tied a string around a tooth and asked Rudolph to try pulling it out!
Will Mouse ever lose a tooth?
Then she tied a string around another tooth and tied the other end onto some monkey bars and hung there by her tooth!  She hung there so long she fell asleep.  Some of the other elves untied her and then hung her up on a Christmas tree!  (Such silly elves!)
Poor Mouse was so disappointed that none of her teeth would fall out.  She went to visit Mrs. Claus in the kitchen.  Mrs. Claus gave her an extra sweet, Christmas hard candy to make her feel better.
Mouse took one bite and Pop!  Out came her tooth!  That's when Mouse said, "Well that's why it wouldn't fall out before when I tried apples and corn and string!  It was a sweet tooth!"
HHHOL!
Merry Christmas!
Santa Claus
P.S.  Did you ever lose a tooth?  How did it finally come out?  (You can share a funny story about losing teeth here.  Or, scroll down to see what others have written!)
A right jolly old elf, in spite of myself. I love Christmas, children, the North Pole, Mrs. Claus, elves, reindeer, snowmen & the list goes on!
My title is CEO: Christmas Elf Online.
Merry Christmas!