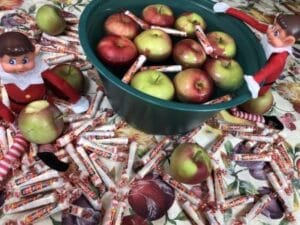 Elves love bobbing for apples! It is a fun part of Hallowistmas at the North Pole!  (Hallowistmas is just a silly name we have for Halloween.)
Here are two elves bobbing for apples and trying not to get wet.
Have you ever played this Halloween game?
The elves love doing this silly game so much.  They like it so much they once tried it with a Christmas twist.
The elves were busy counting down the days to Christmas and chatting with Santa.  But, they were getting a little bit bored.  Doesn't it sometimes seem like it takes forever for Christmas to come?  It was just after Halloween but Christmas was still a long way away.
Then Clumsy the Elf  got a silly idea.  A silly, silly idea.  It was an idea about Halloween.  And it was an idea about Christmas.  It was an idea about both Halloween AND Christmas! Can you believe it?!
Is It Elves Bobbing For Apples At Christmas? No!
"Why don't we try to try bobbing for presents?" Clumsy said, "It would be fun!"
Then…
Oh, maybe I'll tell you the rest of the story another time.  This story is supposed to be about Halloween traditions after all.  Anyway, you can only imagine what happened. 😊
For now, let's just say that if you ever get a wet present for Christmas, you'll know the elves were bobbing for presents again!
HHHOL!
Santa
P.S. What do you think happened when the elves bobbed for apples?
(You can leave me a message here.  Or, scroll down to see what others have written!)
A message from the elves:
You can write Santa a quick message here.  But, if you want a reply letter from Santa then you should send a letter to Santa from this web page.  Then Santa will reply to you fast as reindeer fly!
A right jolly old elf, in spite of myself. I love Christmas, children, the North Pole, Mrs. Claus, elves, reindeer, snowmen & the list goes on!
My title is CEO: Christmas Elf Online.
Merry Christmas!