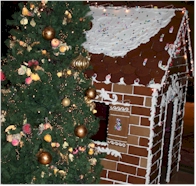 Christmas elves are great helpers.  They make great toys.  But did you ever wonder why the elves help me make toys for all the good girls and boys?
Many, many years ago, Mrs. Claus and I went to the North Pole.  We saw a bunch of elves there.  The elves were very cold and very hungry.  But they were very afraid of us.  The elves were afraid because people had been mean to them.
Every time we got close, the elves ran away.  But one elf did not run away quite so fast.  Maybe it was because he knew we would not hurt him.  Or, maybe it was just because he kept slipping and falling in the snow.  (Can you guess his name?)
Well, one time, Clumsy the Elf got stuck in the snow when the other elves ran away.  He was very hungry, very cold, and very afraid of us.  Mrs. Claus had some of her famous gingerbread with her.  She gave him some.  She also gave him some hot chocolate.  I put my coat around him to keep him warm.
The elves' Christmas Spirit
Soon the other elves came closer.  We gave them food too.  The elves were still very cold.   So Mrs. Claus made them some gingerbread houses to live in.  We still have one of the very first ones (you can see it in the picture).
The elves did not know why we made the gingerbread houses for them.  "Mr. Santa Claus, other people were mean to us.   But you are kind.  You gave us food and warm houses.  Why did you do that?" they asked.  So I told them all about the Christmas Spirit.
The elves did not understand about the Christmas Spirit at first.  So, I showed them how to make toys to give to good girls and boys.  When they saw how happy it made the girls and boys, that was when the elves understood.   They understood it was better to give than to get.
The elves are still very afraid of people.  They hide as soon as a person is near.  But they have been making toys for me ever since!
Merry Christmas!
Santa Claus
P.S.  Do you think the elves make good toys?  Do you think it is better to give than receive?  (You can leave a message here.  Or, scroll down to see what others have written!)
A right jolly old elf, in spite of myself. I love Christmas, children, the North Pole, Mrs. Claus, elves, reindeer, snowmen & the list goes on!
My title is CEO: Christmas Elf Online.
Merry Christmas!