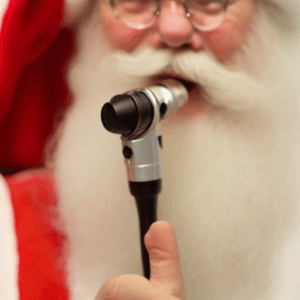 Mrs. Claus worries about everyone getting their flu shot.
But she worries about everyone getting the flu even more!
After all, I cannot be sick for the big day!  I do not want to let anyone down Christmas morning!
Yes, I have to stay in tip-top shape!  The elves and I need to be our best to make toys.  The reindeer and I have to be ready to bring gifts on Christmas Eve.   And of course, I have to stay healthy… just in case the elves want to have a snowball fight!
So Nurse Nice made a special visit to the workshop.  She came to give us our flu shots.
Some of the little elves were a bit worried about getting their flu shot.  Nurse Nice could see they were a bit afraid.
She made the elves feel better with a little chat.  "Elves, have you ever been sick?"  One by one, they all put up their hands.
"Is it fun when you are sick?" she asked.
"Oh, no!" the elves replied, "not at all!"
"Is it better to be really sick for a long time," asked Nurse Nice.  "Or, is it better to have a quick shot now?"
Your Flu Shot Is The Right Thing To Do
The elves did not want to miss ANY of the fun at Christmas so they all asked for their shots.  They were still a little afraid, but they knew a shot was the right thing to do.
Nurse Nice then gave each elf a music toy.  They held it while they got their shot.  Then they played Christmas songs together after they had their flu shots!
The elves liked holding the toy.   It reminded them to wait for something better.  They also really like feeling good at Christmas (almost as much as they like snowball fights!).
And I had my flu shot too!  I do NOT want to be sick Christmas Eve!
Merry Christmas!
Santa Claus
P.S.  Do you think it is good the elves and I get our flu shots?  Do you think a flu shot is a good idea?   You can click here to tell me about it or scroll down to see what other people have written!
A right jolly old elf, in spite of myself. I love Christmas, children, the North Pole, Mrs. Claus, elves, reindeer, snowmen & the list goes on!
My title is CEO: Christmas Elf Online.
Merry Christmas!