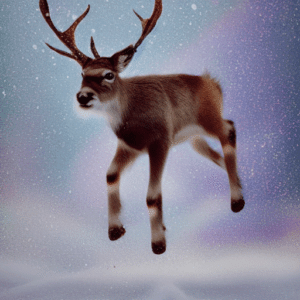 Mrs. Claus has been very busy today.
She was trying a new cookie recipe.
It was a very special recipe for reindeer cookies!
Keep reading for the tasty (and funny!) story!
The reindeer need lots of extra energy on Christmas Eve.  They have a long way to fly and a heavy sleigh to pull.  Mrs. Claus likes to give them all an extra cookie before they go.  The new recipe was for super-duper flying cookies!
Mrs. Claus put some flour in a bowl.  Next she added some sugar lumps.  Then some chocolate chips and some carrot chips.
Then she poured in a special bottle.  The label said "Very Special Flying Fizz".  The mixture was made into cookie shapes and put in the oven to bake.
Mrs. Claus' Great Flying Reindeer Cookies!
Cupid was first to try a cookie.  She took a little nibble. "Yummy!" she said.  She ate the rest of the cookie in one big bite!  Oh my, then there was trouble!
Cupid started to float up from the ground!  She looked like a big reindeer-shaped balloon!
Mrs. Claus held on to Cupid.  Then Mrs. Claus started to float up too!  "Help!" cried Mrs. Claus.  All of the elves held on to Mrs. Claus.
One by one, they started to float up too!  "Oh no!" said the elves.  "BURP!" said Cupid!  Can you guess what happened next?  Yes, they all landed on the floor with a big thump!  I am glad they were all ok.
"I think I used just a little too much flying fizz," said Mrs. Claus.  Everybody laughed.  Then they had carrots instead!
Merry Christmas!
Father Christmas
P.S.  What kind of cookies do you think Mrs. Claus should bake on Christmas Eve?  You can click here to tell me or, scroll down to see what other people have written!
A right jolly old elf, in spite of myself. I love Christmas, children, the North Pole, Mrs. Claus, elves, reindeer, snowmen & the list goes on!
My title is CEO: Christmas Elf Online.
Merry Christmas!