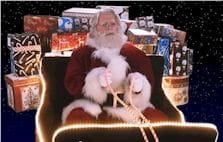 If you remember, Mouse the Littlest Elf and Cornelius Griznich had just become friends in the cave on the snowy mountain.
I could feel the Christmas Spirit growing in the North Pole. Even before she told me, I knew that Mouse had found the sleigh and made a new friend.
I awaited their return.  Keep reading to see how the story end!
Mouse now had a problem. She was too small to fly the sleigh. The sleigh is built for me. Only Santa is big enough to fly the sleigh. What was she to do? She found out that Cornelius Griznich had used an Elepha-potamus to pull the sleigh to his cave. But the Elepha-potamus had run away. That was when Cornelius Griznich had a great idea. They could fly it together with the help of the reindeer who came with Mouse.
So Mouse took the steering controls and Cornelius Griznich took the speed controls. Now let me tell you. It is not an easy thing to fly the sleigh. Even I can run into problems. But the way they flew it was almost magical.
They took off from the cave and glided down the mountain. They built up so much speed that they were able to jump over all of the chocolate rivers. Then they slid from side to side through the Candy Cane trees without hitting any of them. If you have ever driven a sleigh you know how impressive that is!
A Happy Elf
When they parked the sleigh back in my toy factory I could see how happy Mouse was. I could also see how nervous Cornelius Griznich was. Mouse told me all about the adventure while Cornelius Griznich waited. When I called him inside I could tell he was a little scared. I told him there was nothing to worry about. Mouse had told me everything. If Cornelius Griznich wanted to be an elf then an elf he was!
Cornelius Griznich is becoming the happiest elf I have ever seen. There was one small problem though. Cornelius Griznich does not sound like the name of a happy elf. So we have to rename him. This is where I need your help. Can you think of a new name for Cornelius Griznich? A name fitting for a happy elf?
Santa Claus
P.S. Can you think of a new name for Cornelius Griznich? A name fitting for a happy elf? Would saving Christmas make you a happy elf? You can click here to tell me or, scroll down to see what other people wrote.
A right jolly old elf, in spite of myself. I love Christmas, children, the North Pole, Mrs. Claus, elves, reindeer, snowmen & the list goes on!
My title is CEO: Christmas Elf Online.
Merry Christmas!