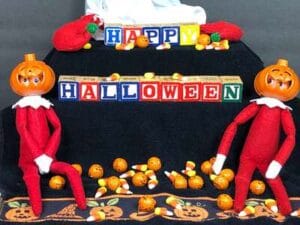 Merry Christmas, oops, I mean Happy Hallowe'en everyone!  Everyone at the North Pole is enjoying "Hallowistmas"!  That's what we call Halloween at the North Pole.  Would you like to hear more?
The elves thought it would be fun to pretend they lived in Hallowe'entown this year.  Instead of Hallowe'en this year, they wanted to have Hallowe'istmas!  Well, things did not turn out quite the way we thought.
First, Clumsy the Elf thought it would be fun to "bob for presents" instead of "bobbing for apples".  Have you ever seen an elf with a soggy present in their mouth?  It is not a pretty sight!  We also found out that iPads and other iToys do not work as well after you dunk them in water!  (Oops!)
Then the elves thought it would be fun to carve some faces into Christmas trees.  That did not go very well either.  First, Christmas trees do not really like being carved.  Also, the elves kept getting stuck by needles!  And of course, Christmas trees REALLY do not like it when someone sticks a burning candle in them!
Then it was time for some trick-or-treating.  Mrs. Claus handed out turkey and cranberries for Hallowe'en treats.  Let us just say turkey and cranberries are not quite what everyone was expecting in their goody bags!
I also found out something very important!  The reindeer thought it would be fun to dress up as ghosts and fly around.  So, they all put big, white sheets over their heads.  Then they started to fly around.  Guess what?  Reindeer do not fly very well with sheets over their heads!  They were crashing into everything!  Even Rudolph with his nose so bright could not guide them!
It Wouldn't Be Hallowistmas Without…
Well at least that old GrinchyClaus had fun handing out his smelly old socks.  (He saves them up all year long you know!)
Well, that is all for now.  The "Santa Claus Christmas Blog" will start again full time very soon now.   I just wanted to tell you what Clumsy' and the other elves have been doing.  (I only hope they do not eat too many candies again this year and get a tummy ache.)
Merry Christmas! (Oops, I meant, Happy Hallowe'en!)
Santa Claus
P.S.  Do you like Hallowe'en? Would you like to get turkey and cranberries in your goody bag?  (You can tell me here.  Or, scroll down to see what others have written!)
A right jolly old elf, in spite of myself. I love Christmas, children, the North Pole, Mrs. Claus, elves, reindeer, snowmen & the list goes on!
My title is CEO: Christmas Elf Online.
Merry Christmas!