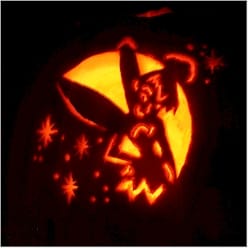 Merry Christmas, oops, I mean Happy Hallowe'en everyone!
Everyone at the North Pole is taking a little break from Christmas.  We are having a little Hallowe'en fun.  Would you like to hear more?
When it is Hallowe'en at the North Pole we dress up.  We play games.  We go trick-or-treating.  We laugh.  We do Hallowe'en crafts.  We have lots of fun!
The elves are very good at carving pumpkins.  Clumsy the Elf always carves the best pumpkins.  But he always makes a really big mess.  He has so much pumpkin on him he is orange!  So, we have to get the hose.  Then we hose him down to clean all the pumpkin guts off of him.
Did you see the photo of one of Clumsy's pumpkins?  It's a little hard to take a picture of a pumpkin in the dark.  He hopes you like the pumpkin.  (I think he has a bit of a crush on her 🙂 ).
Do you like dressing up?  Everyone here gets dressed up.  The girl elves love to dress up as princesses and fairies.  They look so pretty in their pretty dresses.
The boy elves dress up as all sorts of things.  Some are pirates.  Some are Batman.  Some are Spiderman.  But most of them dress up as me!  It's really funny to see all those silly elves running around as Santa Claus!  Then they all stop at the same time.  They hold their little bellies. Then they all say, "Ho! Ho! Ho!"  I laugh so hard it always makes me say "Ho! Ho! Ho!"  Then they all laugh and say "Ho! Ho! Ho!" too!
Everyone loves to go trick-or-treating.  The elves love to fill their goody bags.  They knock on a door and say something silly like:
"Trick or treat, smell my feet.
Give me something good to eat"
Then they get something yummy.  Sometimes they get a candy cane.  Sometimes they get some Christmas candy.  Sometimes they get those fancy imported marshmallows for their hot cocoa.  But, they always get an extra special cookie from Mrs. Claus.
If they say "Trick or Treat" at some houses, they might get a trick!  That old GrinchyClaus loves Hallowe'en after all.  He has the best Haunted House at the North Pole!  He saves up his old smelly socks all year too.  Then he gives them out as Tricks!  The elves think it is really funny to get a smelly old sock.
Well, that's all for now.  The "Santa Claus Christmas Blog" will start again full time in just a few more weeks!   I just wanted to show you Clumsy's pumpkin.  (I only hope he does not eat too many candies again this year and get a tummy ache.)
Merry Christmas! (Oops, I meant, Happy Hallowe'en!)
Santa Claus
P.S.  Do you like Hallowe'en? What do you like to dress up as?  (You can tell me here.  Or, scroll down to see what others have written!)