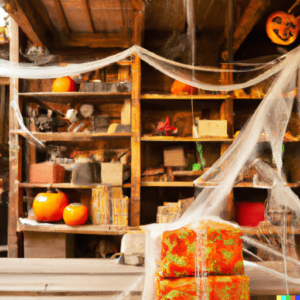 Knickers and knees!  What a scary day it has been in the North Pole!
It is Scunner's Halloween party tonight and he has been VERY busy.
Last night when we all went to bed the place looked like my Christmas workshop.  Today there are spider webs, skeletons and big rubber spiders everywhere.  All along the window ledges there are lanterns.  Most of the lanterns are pumpkins.  The biggest and scariest lantern is made from Scunner's tumshie.
Even the reindeers have cobwebs on their antlers.  I'm just glad I locked the door to my office or my webcam would be covered in cobwebs too!
Do you remember Scunner asked for an old sheet?  Well he has dressed himself up as a tattie-bogle.  I asked him what that was.  "It's for scaring crows away from the crops."   I guess he means a scarecrow.
Knickers And Knees, It's A Scary Halloween!
He is certainly scaring us!  All day Scunner has been jumping out at people to give them a fright.
Poor Clumsy was carrying a big box of rubber balls to the packing room when Scunner jumped out.  "Whoooooooo" Scunner cried and the balls went everywhere.  I could not help but laugh as we all tried to stop the balls from bouncing everywhere.
He even tried to scare me by jumping out at me.
Maybe he jumped out too fast, but the rope that he was using as a belt came loose.  Of course his trousers fell down.  I just had to laugh at the sight of his knobble knees and knickers.
He laughed too.
"I love Halloween, Santa" he giggled.
I wonder what he has in store for us at his party?
Happy Hallowistmas!
Santa Claus
P.S.  What are you dressing as for Halloween?  You can click here to tell me or scroll down to see what other people have written!
A right jolly old elf, in spite of myself. I love Christmas, children, the North Pole, Mrs. Claus, elves, reindeer, snowmen & the list goes on!
My title is CEO: Christmas Elf Online.
Merry Christmas!