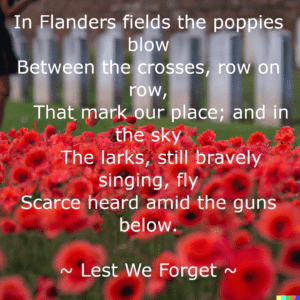 Lest We Forget, November 11th is a very special day.
It is not a day about trick or treating.  That is Halloween.
It is not a day about gifts from me, Santa Claus.  That is Christmas.
It is a day about a very different but more important kind of gift.
Lest We Forget, November 11th is a very special day.  Some of my friends call November 11th Remembrance Day.  Some call it Armistice Day.  Some call it Veteran's Day.
Lest We Forget What Today Is About
This special day is about the gift of freedom.  It is about the men and women who gave us that gift.  Today we remember what they did for us.
Lest We Forget, they fought, and are still fighting, in wars.  They fought so we could have freedom.  Many of them died.  Many more of them were hurt.  We must always remember what they did so we could have freedom.
Do you want to know what I do after I bring toys on Christmas Eve?  I like to do it very much.  It means a lot to me.
Lots of kids send letters to ask for things for moms and dads who are soldiers.  These troops are gone from loved ones.  Most are far, far from home.
They give up fun things at Christmas time.  The troops work hard to make sure we are free.  They take care of others and keep them safe.
Boys and girls miss their moms and dads who are troops.  Their moms and dads miss them just as much.  The letters ask me if I can do something nice for them this time of year.
My Special Delivery
So early Christmas day when I have brought all the gifts, I drop bags from my sleigh.    The care bags hold small things to remind the troops of home.
Treats like candy canes, fruit, nuts, cards, and letters from home.  These things let them know we think about them at Christmas.  They are still in our hearts when they are not here.
"Lest We Forget"
Santa Claus
P.S.  Do you know someone who is away from home?  Can you think of one thing you can do to let them know you still think about them?  Do you have a great idea to help out the troops?  You can click here to tell me or scroll down to see what other people have written!
A right jolly old elf, in spite of myself. I love Christmas, children, the North Pole, Mrs. Claus, elves, reindeer, snowmen & the list goes on!
My title is CEO: Christmas Elf Online.
Merry Christmas!