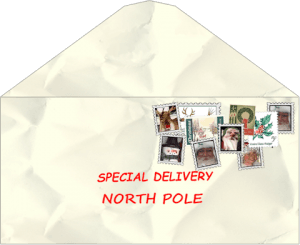 Today I am going to write about a Letter from Santa.
I get so many letters every year.  Do you want to know something?  I love to read your letters.  It takes a lot of time, but that is okay.
I ❤️love❤️ every single one.
They are so nice.  Some have jokes.  And some have pictures.  Some have lists.  And some have poems.  Some have stories.  But all of them are lovely.  And all of them get a letter from Santa 🎅 (that's me!) back.
I thought of something.  I get so many lovely letters.  But, I do not send many letters on my own.  Have you ever gotten a letter from Santa?  I barely have time to read letters.  In fact, I have no time to send letters unless they are replies to your letters.  I am sorry.  After all, I wish that I could send a letter to everyone.  I wish that you could get a surprise letter from Santa.
I have the time to write a letter, but not to every child.  So, here is what I will do. I will write a letter to all the children in the world.  Here it is:
Letter From Santa
Dear Children,
Thank you so much for your letters.  I love reading every one.  You make me so happy.  I will soon come to your home.  And I hope I can leave you a present.  Maybe you will leave me mince pies or other yummy treats.  My reindeer love carrots.  We all love milk.  You are so generous to leave food for me.  It keeps me going all night.
Have you been good this year?  I know that you have.  I can see into your heart.  You have a good heart.  A kind heart.  A loving heart.  Do not ever let yourself change.  You are who you are.  You are unique and special.  And, you are one of a kind.  You make Christmas great.  I deliver presents, but you create the joy.  Thank you so much for that.
I hope that you have a merry Christmas.  Make sure to track me on the emailSanta Santa Tracker (or, as the elves call it, the Santa Snooper).  Then please go to sleep early.  I deliver presents when you are sleeping.
Merry Christmas,
Santa Claus
That is my letter from Santa.  Please keep sending me letters.  You know I will reply fast as reindeer fly!  I will be at your house soon.  I hope to bring lots of presents.
A message from the elves:
You can write Santa a quick message here.  But, if you want a reply letter from Santa then you should send a letter to Santa from this web page.  Then Santa will reply to you fast as reindeer fly!
A right jolly old elf, in spite of myself. I love Christmas, children, the North Pole, Mrs. Claus, elves, reindeer, snowmen & the list goes on!
My title is CEO: Christmas Elf Online.
Merry Christmas!