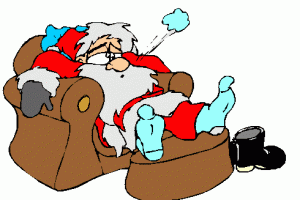 Merry Christmas! It's Christmas Day!
Well, the reindeer and I are very tired!  It was a very long night.  But it was a very fun night!  I hope you had fun this morning too!
Merry Christmas! It's Christmas Day!
There are many people I have to thank for helping me.
I want to thank the elves and reindeer.   They are such good helpers.  Hurray for the elves and reindeer!
I should thank the grown-ups too.  Sometimes I wonder what I would do without them.  Hurray for all the grown-ups!
Of course, I have to thank Mrs. Claus!  Hurray for Mrs. Claus!
But most of all, I want to thank all the kids!   I want to thank you for the milk, cookies, mince pies, apples, carrots and other goodies.   Thank you for the great letters and emails too!  Hurray for you!
I hope everyone enjoys the presents that I brought.  The elves worked very hard making them just for you!
Everyone at the North Pole loves you very much
I know there are many kids I could not bring any presents to this year.  Or, I had to bring them a present different from what they wanted.
I am very sorry if I could not bring you what you wanted.   It was something you really wanted and I am sad I could not bring it.  I know you are sad about it too.
But, I want you to always remember something.  Santa Claus and everyone at the North Pole love you very much.  It does not matter what Santa brings you.   He still loves you, almost as much as your grown-ups do!
The most important gifts are the ones that Santa cannot bring.  After all, Christmas does not come in boxes and bags.  It does not come from a sleigh or a store!   If you have people that love you and a warm, safe place to live then Christmas, perhaps, means a little bit more!
Merry Christmas!
Santa Claus
P.S.  Did you have a wonderful Christmas?  What was the best part of it?  (You can leave a message for me.  Or, scroll down to see what others have written!)
P.P.S.  I have to go see if the new baby elves have been born yet!  I will tell you all about it tomorrow.
A right jolly old elf, in spite of myself. I love Christmas, children, the North Pole, Mrs. Claus, elves, reindeer, snowmen & the list goes on!
My title is CEO: Christmas Elf Online.
Merry Christmas!