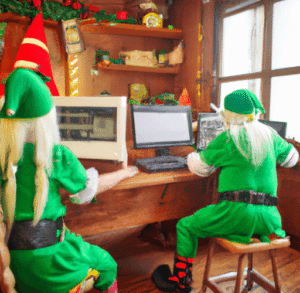 Do you remember last year when the elves took over the recorder and sent you a funny message?  I have to admit that they were pretty funny.  This year, I am letting them write you another message from Santa's elves.  They were so happy to receive so many messages from all the children of the world that they have been asking me if they can send another.
This time I supervised them so that they did not delete the Naughty & Nice list again.  It was lucky that I had a backup.  Here is their message.
A message from Santa's elves
Hello.  I am an elf, and I am here with my elf friend to wish you a Merry Christmas.  Wait, it is not Christmas yet.  Another elf is shouting at me.  He is saying that it is close to Christmas so we can say Merry Christmas.  So, Merry Christmas.  Wait, I said that already. Can I start again?
A message from the elves, Take Two!
Ok, here is message from Santa's elves, take two!
We loved hearing from you last year.  When the first messages came in, we were so happy that we jumped for joy.  Elves can jump really high.  Can you imagine a hundred elves all jumping into the air at the same time?  We can jump higher than the tallest adult in the world.  Elves are excellent jumpers.
We have been busy making toys.  Of course, Clumsy has been busy breaking those toys by mistake.  He tries hard, but he can be clumsy sometimes.  Well, he is Clumsy all the time.  That is his name.  Hey, maybe that is why he is called Clumsy!
Oh-oh, the other elves are looking at me with angry looks.  I am supposed to be telling you about our brand new elf class that we are starting this year.  This is going to be the best class ever, and it will help you to finally train your teddy bears.  Yes, that is right, we are starting our very own teddy bear training class.
That means we will help you to train your teddy bear to act nice and do what you tell them to (as long as you tell them to do nice things, of course).  Well, I have to go.  I really need to go to the bathroom.  We will be back soon with our first class.
Until then, can you tell us the name of your teddy bear?  If you have any more questions for us elves, then please ask us.
That's their message!
Well, what do you think of the message from Santa's elves?
Merry Christmas!
Santa Claus
P.S.  What is the name of your teddy bear?  What do you think of the elves' teddy bear training class idea?  Leave me a message here to tell me!  Or, scroll down to see what other teddy bears, oops, I mean, people wrote.
Another message from Santa's elves:
You can write Santa a quick message here.  But, if you want a reply letter from Santa then you should send a letter to Santa from this web page.  Then Santa will reply to you fast as reindeer fly!
A right jolly old elf, in spite of myself. I love Christmas, children, the North Pole, Mrs. Claus, elves, reindeer, snowmen & the list goes on!
My title is CEO: Christmas Elf Online.
Merry Christmas!