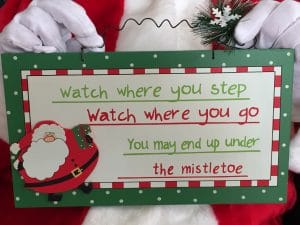 Merry Christmas!  I love to write Christmas poems when I have a minute.  Would you like to read my poem about mistletoe?
The story of this famous Christmas plant is really cool and even magical.  I added all kinds of Christmas trivia about it for you too.
Here's my poem!
MISTLETOE – a poem by Santa Claus
Hey there Children, did you know
About a thing called Mistletoe
For hundreds of years, and hundreds of years more
Mistletoe has hung on a ceiling or door
But where does it come from? Where, oh where?
You can stop reading if you just don't care
Go back in time to when magic was found
Do not make a noise, and don't make a sound
Mistletoe has some mystical powers
It is not like other boring flowers
Hang it for luck inside your home
And never hear the spirits groan
Some people believe that bad things try
To scare you, tease you, and make you cry
And that is something we can do without
I never want to yell or shout
Especially on Christmas day
I want to be happy, and jolly, and play
Mistletoe will keep bad things away
From the rise of the sun to the end of the day
Have you heard of people called Norse?
You can call them Vikings, of course
Vikings liked their mistletoe
They liked to have it when it snows
They do not believe that bad things come
And try to get inside your home
Do You Know Your Mistletoe?
The Vikings have mistletoe on their boats
In their sheds, and homes, and goats
Do they have it on their goats?
Would they hang it around their throats?
That seems weird, that seems wrong
This verse does not quite belong
Can you guess a ship which will never sink?
A friend-ship will never sink, I think
And that is what the Vikings wish for
To have friends and love and no more war
They hang the flower as a sign
Of love and friendship for all time
So if you find yourself below
The flower called the mistletoe
Remember friends and those you love
With help from what is up above
And look around to all you see
Your friends and all your family
And thank them all for being there
Thank them all for giving care
Thank them all for loving you
And Thank them all for all they do
Mistletoe is not just a flower
Mistletoe has lots of power
It reminds us of those we love so dear
And takes away all of our fear
It keeps us safe. It keeps us true
When it hangs above me, or you
I hope you like my poem.  Did you learn anything about this famous Christmas plant?  Do you know what you're supposed to do if you find yourself under this plant at Christmastime?
Merry Christmas!
😘 Santa Claus 😘
P.S.  What do you think of this famous Christmas plant now?  Does it have an interesting history? You can click here to tell me or scroll down to see what other people kiss, I mean, wrote.
A right jolly old elf, in spite of myself. I love Christmas, children, the North Pole, Mrs. Claus, elves, reindeer, snowmen & the list goes on!
My title is CEO: Christmas Elf Online.
Merry Christmas!