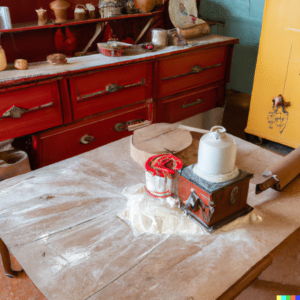 Today Clumsy and I decided to help tidy Mrs. Claus' kitchen.
Of course, I am never sure if Clumsy is really helping or not!  😉
Would you like to hear what happened?
Mrs. Claus works so hard keeping the North Pole nice and clean.  She really loves to cook too.  But sometimes she needs a little break.  I thought it would be very nice to help her!
After we had a lovely dinner, I asked Mrs. Claus to sit down.  I just wanted her to relax.  Clumsy and I would clean up everything by ourselves. We decided that Clumsy would clean the dishes.  I would mop the floor.
I went to the cupboard to get everything I needed.  When I came back, I got such a surprise!
Mrs. Claus' Kitchen Claustastrophe!
Clumsy was holding the plates up so that Rudolph could lick them clean!
I let out such a shout of surprise!  Clumsy got a fright and dropped four plates on the floor.  Crash!
Well, I told Rudolph to go back to his stable.  Clumsy started to sweep up the broken dishes.  I filled my bucket full of water and turned round and tripped over Clumsy.  I guess I was the clumsy one today.  There was water and bubbles everywhere!
We made so much noise that Mrs. Claus came into the kitchen.  I thought she was going to be angry.  I thought she was going to put us on the naughty list!
No, she just laughed at us.
"Santa you stick to making presents for the children.  I will do the cleaning."  She laughed.  Clumsy and I laughed too.
Merry Christmas!
Santa Claus
P.S  What do you do to help around the house?  Do you clean up like Clumsy?   You can click here to tell me or scroll down to see what other people have written!
A right jolly old elf, in spite of myself. I love Christmas, children, the North Pole, Mrs. Claus, elves, reindeer, snowmen & the list goes on!
My title is CEO: Christmas Elf Online.
Merry Christmas!