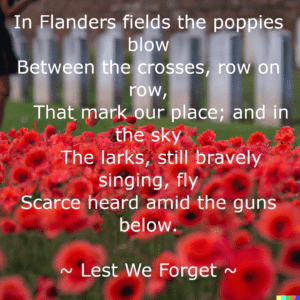 Hello children.  Thank you for joining me here at the North Pole today.
Our countdown to Christmas starts soon.  But before that I would like to talk a little about what November 11th means to us.
Over 100 years ago there was a war. A war bigger than any we have seen. Lots of people fought, and sadly lots of people died too.
This was long before you were born. I was still delivering presents to all the children across the world. These children were your grandfathers, grandmothers, great grandfathers and great grandmothers. Maybe even great, great grandfathers and grandmothers.
Why We Remember On November 11th
Why did they fight? Well they fought for us. They fought so that we would not have to. They fought so we could have freedoms. The freedom to play, to learn, to laugh. The freedom of safety, community and unity. They fought so we could have the freedom to go to school or go to the park. The freedom to live in our own houses with our own families and the freedom to be whoever we want to be.
Almost 100 years ago on November 11th the fighting stopped. The war came to an end. On the 11th hour, on the 11th day of the 11th month the fighting came to an end. People did not have to be scared anymore. People did not have to die any more. It was a great day for the world.
People around the world are still fighting for us today. To make sure we are safe. To make sure we are free. And to make sure we do not have to fight in a war like the one in the past.
Lest We Forget
So every 11th day of the 11th month, and at the 11th hour (11 in the morning) myself and the elves remember those who fought for us. On November 11th we will remember those who are still fighting for us. We will stand together in silence for 2 minutes and think about the good which has come from all that happened in the past. If you are able then please join us in silence at 11 in the morning, with your family, your friends, or even just by yourself. Let us think about those who have fought. Let us think about those who are fighting around the world for us. Maybe it is a relative, maybe a friend or maybe a stranger. They are all fighting for us. They all deserve our thoughts and thanks.
The bad things are hopefully now in the past. Christmas is coming as we look to the future. I wish you all a very merry Christmas season. Soon I will be flying around the world again delivering presents with my reindeer.  And I'll remember  November 11th and all those who gave me my freedom so I could!
"Lest We Forget"
Santa Claus
P.S.  Do you know someone who fought in the past wars or who is fighting in a war today?  Would you like to share their name or their story?  Would you would like to say a word of thanks to those who fought or are fighting?  You can click here to tell me or scroll down to see what other people have written!
A right jolly old elf, in spite of myself. I love Christmas, children, the North Pole, Mrs. Claus, elves, reindeer, snowmen & the list goes on!
My title is CEO: Christmas Elf Online.
Merry Christmas!