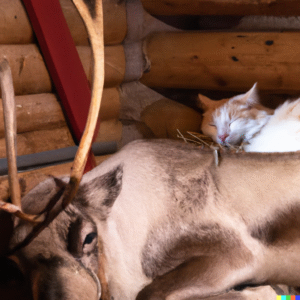 Pudding the Christmas cat went to visit the reindeer today.  The reindeer were having fun playing reindeer games.  Pudding joined in with a snowball game!  Prancer threw an extra big snowball.  SMACK!  It landed right on top of Pudding.  Only her whiskers could be seen poking out!
Pudding decided to go and visit the young reindeer. They were too little to play reindeer games. The youngest reindeer were having a flying lesson. It takes a lot of practice to be able to pull my sleigh you know! Today was take-off and landing practice. It is not easy to land on a roof and then take off again. One of my young reindeer got stuck on a roof just the other week!
Pudding watched as the reindeer took off one by one. They all did very well. Then he watched as they came in to land. SWOOSH! The first one landed a bit too fast. A big wave of snow covered Pudding. SPLAT! The second one came in to land. Another wave of snow hit Pudding. FLUMP! The last reindeer landed on his butt! Another big shower of snow fell on Pudding.
"Brrrrrrr! I'm out of here," said Pudding. She shook off the snow with a shiver. She decided to visit her reindeer friends in the barn. "ACHOO!" she sneezed. "ACHOO! HAACHOO! ACHOO! Oh no! I'm catching a cold," she said. "I need to get warm."
Rudolph And Pudding The Red Nose Christmas Cat
Rudolph the red nose reindeer was lying in a cosy bed of straw. Pudding snuggled up beside him to get warm. "ACHOO!" she sneezed. HHHOL! Pudding's nose had gone as red as Rudolph's.
"Look!" said the other reindeer. "It's Pudding the red nose Christmas cat!"
Merry Christmas!
Santa Claus
P.S.  Have you ever caught a cold?  What do you think Pudding should do to get well again?  You can click here to tell me about it or, scroll down to see what other people have written!
A right jolly old elf, in spite of myself. I love Christmas, children, the North Pole, Mrs. Claus, elves, reindeer, snowmen & the list goes on!
My title is CEO: Christmas Elf Online.
Merry Christmas!