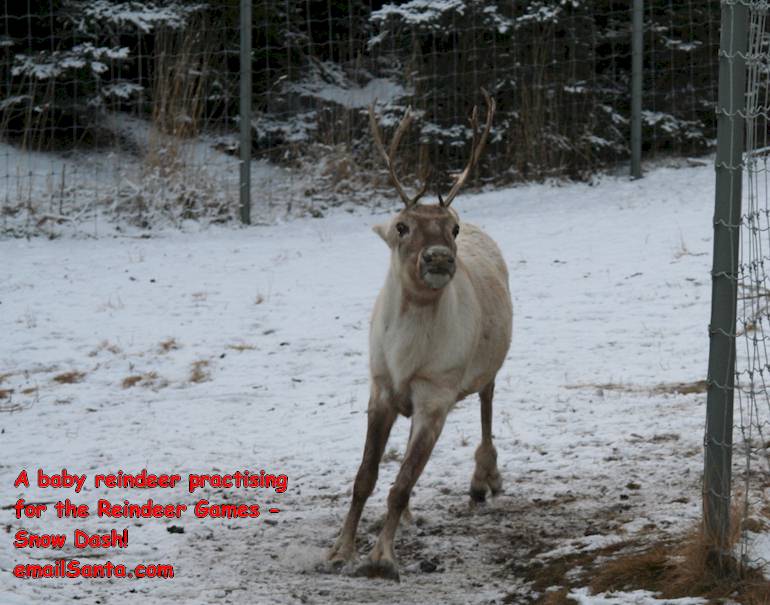 The reindeer have been very busy with fitness training today. They want to be in top-tip shape for the North Pole Reindeer Games.
Things did not go very well for Dasher. He was practicing for the snow dash. This is his favourite game because Dasher loves to dash!
He was dashing through the snow faster than he had ever dashed before. But Dasher wanted to dash even faster.
Dasher went to the top of a big hill to start his dash. The hill would give him a turbo boost!
Well, you should have seen him go – WOOSH! He was as fast as a train coming down the hill. Dasher was ZOOMING along! He was singing "Woo-woo! I'm the runaway train!" It was so much fun. All the other reindeer started to cheer with glee. Dasher was the fastest reindeer they had ever seen!
Then there was a problem. Dasher was so busy dashing that he forgot all about stopping! He was heading straight for a huge snow drift. It was too late to slow down – THUMP! OUCH! Dasher crashed into the snow!
The other reindeer looked into the Dasher-shaped hole in the snow. All they could see was Dasher's bottom! He had to come out backwards. They burst out laughing when they saw his face. He had a big white snowy beard on his chin! Dasher looked just like someone else they all know – can you guess who?
Going fast can be fun but you do have to be careful. What things do you like to do fast?  What things do you like to do slow?
Merry Christmas!
Santa Claus
P.S. What do you like to do with your friends? You can click here to tell me or, scroll down to see what others' have written!
A right jolly old elf, in spite of myself. I love Christmas, children, the North Pole, Mrs. Claus, elves, reindeer, snowmen & the list goes on!
My title is CEO: Christmas Elf Online.
Merry Christmas!