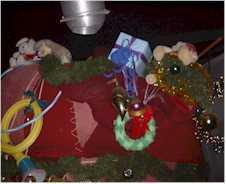 The reindeer had an extra big breakfast today.  They needed lots of energy. It was Reindeer Games practice day.  Prancer ate 25 carrots!
Today was sled pulling day.  All of the reindeer took turns at pulling each other in the sled.
They have a special sleigh.  It is big enough for three reindeer to sit on.
Prancer had super-duper energy!  He pulled Comet, Vixen and Blitzen first.  "Easy peasy lemon squeezy," he said.
It was Dancer's turn next.  "It's Jingle Time!" said Dancer.  He pulled Donner, Rudolph and Cupid.  "Piece of fruitcake," he said.
Then Prancer sat on the sled.  Can you guess what happened?  Yes!  His tummy was too big.  The sled sank into the snow.  Roasting chestnuts!  It was stuck!
Comet tried to pull Prancer.  He could not make the sled move.
Donner tried next.  He huffed and he puffed.  He pulled and he pulled.  But he could not get the sled to move – not even one inch!
Prancer said he would pull the sleigh instead.  He pulled Comet, Cupid and Blitzen.  And he pulled Dancer, Dasher and Donner.  And he pulled Olive, Rudolph and Vixen.  He pulled them all at the same time!
They all had a very holly, jolly time.  They rode along on their one deer open sleigh singing all their favourite silly reindeer songs!
Merry Christmas!
Santa Claus
P.S.  Do you like to eat a big breakfast?  Do you think you could eat 25 carrots?  You can click here to tell me or, scroll down to see what others' have written!
A right jolly old elf, in spite of myself. I love Christmas, children, the North Pole, Mrs. Claus, elves, reindeer, snowmen & the list goes on!
My title is CEO: Christmas Elf Online.
Merry Christmas!