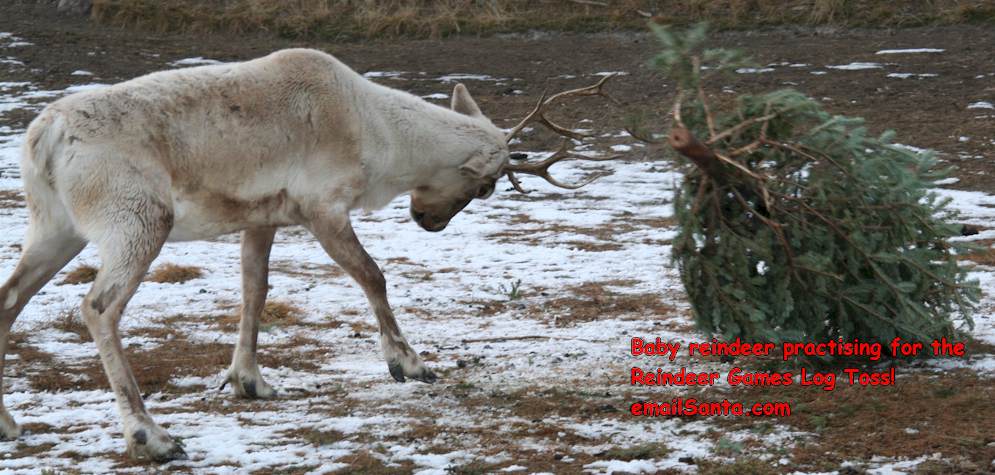 The North Pole Reindeer Games are so much fun.  After all, my reindeer love to play reindeer games!  They train very hard and want to do their best.  Rudolph with his nose so bright always wants to be THE very best.
Would you like to hear more about the Reindeer Games? Then keep reading!
Rudolph loves the log toss game.  He always tries to toss a much bigger log than the other reindeer.  I think he wants to get his name into the Reindeer Book of World Records.  You know, so his name will go down in history!
Sometimes the other reindeer think Rudolph has forgotten how to have fun.  The Reindeer Games are all about fun.  So this year they decided to play a little trick on him.
The reindeer secretly asked the elves to help.  Together they made a super-duper big log.
Rudolph gulped when he saw the big log!  Would he be able to move it?  Rudolph put his head against the side of the log.  He got ready to give it a REALLY BIG push.
Well, what a surprise!  The log did not move!  Instead, it went SPLAT!  Rudolph found himself flat on his face inside it!
It was a trick!  It was not a real log at all!  Instead it was a very, very big Yule log.  And it was made of lots of yummy chocolate sponge and cream!
North Pole Reindeer Games Are For Fun With Friends
Everybody laughed.  Rudolph had sticky cake all over his face.   He laughed.  It was fun!
Then Rudolph remembered that always trying his best was good.  But having fun with his friends at the same time was even better!
We all had a jolly time trying to be THE best at eating cake.  Can you guess who ate the most?
Merry Christmas!
Santa Claus
P.S. What do you like to do with your friends? You can click here to tell me or, scroll down to see what others' have written!
A right jolly old elf, in spite of myself. I love Christmas, children, the North Pole, Mrs. Claus, elves, reindeer, snowmen & the list goes on!
My title is CEO: Christmas Elf Online.
Merry Christmas!