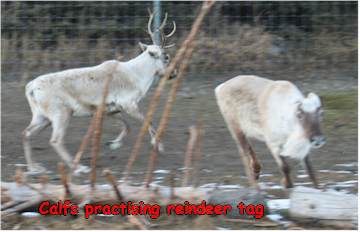 The reindeer love playing reindeer games.  They all played tag today.  Tinsel tag is Dancer's favourite game.
The reindeer have been very busy with fitness training.  They decided to play a game of tinsel tag just for fun.  Dancer put tinsel on his antlers.
"Catch me if you can! "  he said.  All the others tried to get the tinsel from Dancer.  Do you think they did?
Dancer is very good at tag.  He is also very good at dancing!  He dances to the right.  He dances to the left.  He dances here.  He dances there.  He dances everywhere!  The other reindeer just cannot catch him.
Blitzen tried first.  He got very close but he slipped on the snow and missed.
Vixen tried sliding on her tummy.  She nearly got him.  But she was sliding too fast!  Dancer danced to the right and guess what?  Vixen went straight on.  FLUMP!  She slid into Comet and Donner.  They fell onto their bottoms!
Rudolph tried next.  He copied Dancer's dance steps.
"Got you," he said.
But there was a problem!  Rudolph's antlers were stuck on Dancer's antlers.  The tinsel was tangled!  All the other reindeer laughed.  Rudolph and Dancer were spinning in a circle.  They were having a Christmas dance party!
Merry Christmas!
Santa Claus
P.S.  Have you ever had tinsel stuck in your antlers?  Can you say "tangled tinsel" five times fast?  You can click here to tell me or, scroll down to see what other people have written!
A right jolly old elf, in spite of myself. I love Christmas, children, the North Pole, Mrs. Claus, elves, reindeer, snowmen & the list goes on!
My title is CEO: Christmas Elf Online.
Merry Christmas!