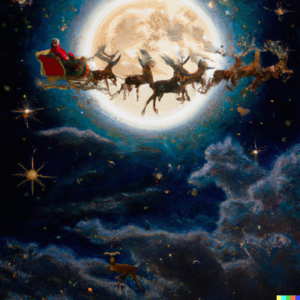 It is getting so close to Christmas!
I get so excited just thinking about it.
The elves are making presents and wrapping them. They are also singing merry songs in the workshop. Clumsy is being clumsy. Mrs. Claus is baking batch after batch of delicious cookies.  And, of course, it's almost time for the big reindeer test flight.
Yes. it is around this time of year that I take the reindeer out for a spin around the world. The reindeer like to fly around all year, but when it gets close to Christmas, I need to make sure that they are fit and healthy. If my reindeer are not fit and healthy, then I might be late delivering some of my presents. I have never had that happen, and I am not about to start now.
Most days, we will have a reindeer test flight around the North Pole. They love to fly. Sometimes I will attach them to the sleigh, and we will fly around and look down on the workshop. I love the bright colors at the North Pole. Sometimes we see the Northern Lights when we are flying.
A Big Reindeer Test Flight
When it is almost Christmas, I like to go for another big reindeer test flight. I attach all of the reindeer to the sleigh, and then we fly around the world as fast as we can. I hope this year that we will break our record (that was set in 1876).
If you have ever seen something flying through the sky that looked like me, but it was not Christmas time, then it was probably me on a reindeer test flight.
One thing which always happens when we do our test flight is that the reindeer get nervous (I get nervous too, but don't tell anyone that). This is why I am writing. I need your help. I love receiving your messages. They are always so nice.
Can you send me something nice to say to my reindeer? I bet that if they could hear your nice words, they would not be so nervous about our test flight. I think that we can break the record. What do you want to say to my reindeer to help make them brave for the flight?
Merry Christmas,
Santa Claus
P.S.  Do you have any nice words for the reindeer before their big test flight?  Leave a message for the reindeer here.  After that, scroll down to see what messages everyone else is leaving for them!
A message from the elves:
You can write a quick message here.  But, if you want Santa to reply, then you should send a letter to Santa from this web page.  Then Santa will reply to you fast as reindeer fly!
A right jolly old elf, in spite of myself. I love Christmas, children, the North Pole, Mrs. Claus, elves, reindeer, snowmen & the list goes on!
My title is CEO: Christmas Elf Online.
Merry Christmas!