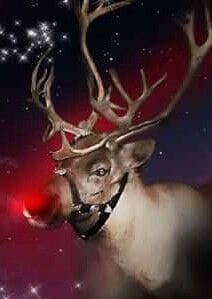 Ho! Ho! Hiccup? Rudolph's Hiccups.
Well, Rudolph had the hiccups today. His hiccups were really loud! What a holly, jolly time we had at the North Pole finding a cure! We tried all kinds of things but nothing seemed to help poor Rudolph.
Would you like to hear more about red-nosed reindeer hiccups?
Mrs Claus said Rudolph should stand on his head and drink some water. Rudolph tried but the water went up his nose! SPLUTTER! He was Rudolph the wet-nose reindeer!
Well, that did not work! Rudolph hiccupped even more.
The elves said he should stand on his tiptoes and sing jingle bells – backwards!
Rudolph tried. "Sleigh open horse one – hum! Fun what – bells jingle – hum! Bingle jells! Oh, I give up!" he said.
That did not work either! Rudolph hiccupped louder still!
Clumsy the Elf said he should stand on one leg and spin around. He showed Rudolph how to do it. Hop, twirl, hop, twirl, hop-twirly-twirl…
Do you know what happened next?
Rudolph's Hiccups Cured!
Clumsy the Elf got dizzy!
He hopped around and bumped into Rudolph.
Rudolph bumped into Blitzen.
Blitzen bumped into Donner.
Donner bumped into Prancer.
Prancer bumped into Dancer.
Dancer bumped into Mrs Claus…
And Mrs Claus spilled a cup of cold, cold water all over Rudolph's head!
Hiccupping holly berries! It worked!
Rudolph stopped hiccupping! Everybody laughed. "Let's all have a cookie," said Mrs Claus.
But oh dear! Clumsy the Elf ate his cookie a little too fast – HIC!  He got hiccups!
That's when I ran outside for a BIG pail of ice cold water!
Merry Christmas!
Santa Claus
P.S. Have you ever had the hiccups?  What did you do?  Can you sing jingle bells backwards?  You can click here to tell me about it or, scroll down to see what other people have written!
A right jolly old elf, in spite of myself. I love Christmas, children, the North Pole, Mrs. Claus, elves, reindeer, snowmen & the list goes on!
My title is CEO: Christmas Elf Online.
Merry Christmas!