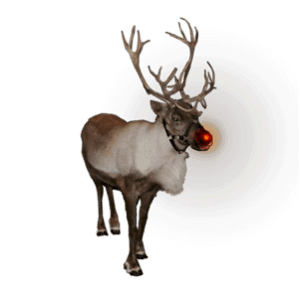 We are counting down to Christmas Eve!  There are only a few more sleeps.  Today we made sure all the reindeer are ready.  But, we had a little problem.  It has to do with Rudolph's Red Nose.  Would you like to hear about it?
We have one reindeer that needs a little extra care.  It is because he guides my sleigh.  It is because he has a red nose that glows!  Do you know who it is?
Rudolph the red-nosed reindeer!
We polish Rudolph's red nose with special nose wax.  It makes it shine even more!  Sometimes the elves even have to wear sunglasses it is so bright!
Well, Clumsy the Elf went to get more nose wax.  He was supposed to put extra glitter in it.  But he put in some "Dr. Achoo Sneezing Pepper" by mistake!
Then the elves put some of Clumsy's nose wax on Rudolph's red nose.  It was shining brighter than ever.  As a matter of fact, it was shining the brightest it had ever shone! But then…
What happened to Rudolph's red nose?
Rudolph started to sniffle.
Rudolph started to twitch.
Why, Rudolph started to act,
Like his nose had a great big itch!
Rudolph tried not to do it.
He held it as long as he could.
He held his nose tight,
And with all of his might.
He thought he had stopped it for good!
So Clumsy put on some more wax.
And Rudolph began to relax.
But that's when it happened.
Poor Clumsy got flattened.
Cuz fast as you please,
Fast as Santa on skis.
Rudolph the reindeer,
Had a big messy sneeze!
Rudolph said he is feeling better now.  But, listen carefully Christmas Eve.  If you hear an "Achoo!", look up!  If you see a red light, it might just be Rudolph!
Merry Christmas!
Santa Claus
P.S. Do you have any special messages for the reindeer for Christmas Eve?  Have you ever tried nose wax?  You can leave a message for me.  Or, scroll down to see what others have written!
A right jolly old elf, in spite of myself. I love Christmas, children, the North Pole, Mrs. Claus, elves, reindeer, snowmen & the list goes on!
My title is CEO: Christmas Elf Online.
Merry Christmas!