FOR IMMEDIATE RELEASE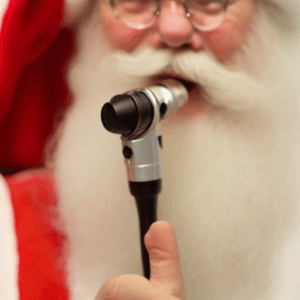 North Pole — (Dec. 22, 2008) – Dr. Alf Doctor today told the press that Santa Claus and the reindeer are fit to fly Christmas Eve.
"It is true", said Dr. Doctor.  "Santa Claus and the reindeer had their annual doctor visit today".
When asked to tell everyone how Saint Nick looked, Dr. Doctor replied,
"His eyes — how they twinkled!
His dimples how merry!
His cheeks were like roses,
His nose like a cherry!
He had a broad face,
And a little round belly,
That shook, when he laughed,
Like a bowl full of jelly!
He was chubby and plump;
A right jolly old elf;
And I laughed when I saw him,
In spite of myself!"
One elf reporter asked where Santa Claus was today.  Dr. Alf Doctor replied that Santa was very busy.  He was getting his reindeer and sleigh ready for the big night.
Another elf reporter asked Dr. Alf Doctor if he had any worries about Santa's health.  Dr. Doctor said, "He is feeling great, but Father Christmas does seem a little lean this year." "I put him on a strict diet of milk, cookies and other yummy treats Christmas Eve.  That will give him the energy he needs to deliver all those presents."
Dr. Doctor also said that Rudolph's nose is glowing very bright.  "Rudolph has stopped sneezing".
Of course, the elves make sure Santa and the reindeer stay healthy and safe on their big journey.  They track him at EmailSanta.com on Christmas Eve.  As a bonus, people will be able to watch live texting between Santa and Elf Control!
Dr. Doctor ended the meeting with, "I hereby certify Santa Claus and his reindeer fit to fly Christmas Eve!"
Merry Christmas!
Dr. Alf Doctor
P.S.  What treats are you going to leave out Christmas Eve?
(You can leave a message for Santa Claus. Or, scroll down to see what others have written!)
A right jolly old elf, in spite of myself. I love Christmas, children, the North Pole, Mrs. Claus, elves, reindeer, snowmen & the list goes on!
My title is CEO: Christmas Elf Online.
Merry Christmas!