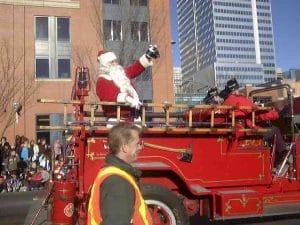 Happy Thanksgiving!  Did you watch me in the big Thanksgiving Day Parade? The elves call it the first Santa Claus Parade of the season.
The parade is so much fun. I like riding on a big parade float.  Do you love watching the gigantic balloons floating in the air too? I go crazy for the marching bands playing their shiny instruments. They play my favorite kind of music, Christmas music!  I love Santa Claus Parades!
Riding on a parade float is fun because you get to wave and say hello to people. My sleigh zips around too fast, I can't wish anyone a Merry Christmas. The reindeer don't like to slow down. Before Christmas the elves are busy tinkering with my sleigh. They make sure it's ready to fly. While my sleigh is in the workshop, I get a chance to ride other things.
Have you seen me riding around your town on a fire truck in a Santa Claus parade? That's a lot of fun. The siren makes a great big noise. The truck is shiny and red like my Santa suit (and Rudolph's nose!).
A Santa Claus Parade On A Boat!
Some towns are close to the seashore. I do something different instead of a Santa Claus parade.  I hitch a ride on a tug boat to greet all the kids! The air is chilly on the water. Mrs. Claus makes sure I wear my warm mittens and pull my Santa hat over my ears. My beard keeps my neck warm, ho ho ho. One time I brought Rudolph with me. He likes to fly in the air, but Rudolph got sick on the boat. Poor little deer.
An extra fun ride is taking an old-fashioned steam train. Clickety-clack go the wheels on the track. The engine steams and hisses. There is even a whistle that blows when the engineer pulls the wire. It's warm inside the train car. I sit by the window, look at the beautiful snowy hills and drink hot cocoa.
I do so many fun Santa Claus Parades!  But, I can't remember all the different things that I've hitched a ride on.   Will you share if you've seen me riding around in something that wasn't my sleigh?
Santa Claus
P.S. What have you seen me ride in at a Santa Claus Parade? You can click here to tell everyone or, scroll down to see what other people wrote.
A right jolly old elf, in spite of myself. I love Christmas, children, the North Pole, Mrs. Claus, elves, reindeer, snowmen & the list goes on!
My title is CEO: Christmas Elf Online.
Merry Christmas!