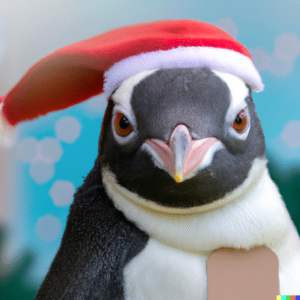 I'm not sure if he was trying to come back home, but Scunner the Grumpy Elf ended up at the South Pole.  The elves tracked him there.
Scunner is still looking for my magic key. I need it back before Christmas Eve so I can deliver presents to all the good girls and boys.
Keep reading to see what Scunner wrote in his latest email.
Dear Santa
Oh Santa, I am so sorry. We haven't found your key or poor Birly. We flew after the reindeer and Birly but then the sleigh started to make some funny noises. It was a sound like metal squealing and the Professor said we had to land. He had some repairs to make.
So we landed in a place like the North Pole. It was cold and snowy. The Professor said that we were at the South Pole. Glaikit isn't used to the really cold weather and I had to give him my coat. I was so worried I went for a wee walk.
The next thing I knew I saw hundreds and hundreds of silly looking black and white birds. They were all standing together keeping warm.
I asked if they had seen a reindeer anywhere and they all looked at me at the same time. Then they all looked at the sky.
I think they meant they saw him flying past.
I thanked them and went back to the sleigh.
There was more bad news. The Professor said that the only way we would take off again was if we used the SPS for spare parts.
Oh Santa, I don't know what to do. Either we stay here or we fix the sleigh. We can't find the key though.
Or Birly.
I don't know what to do.
Scunner.
A South Pole Santa?
Oh no, this is terrible news. Should I leave the North Pole and go help Scunner?
Santa Claus
P.S. I really want to go but I'm needed here to get everything ready for Christmas Eve. You can click here to tell me or, scroll down to see what other people have written!
A right jolly old elf, in spite of myself. I love Christmas, children, the North Pole, Mrs. Claus, elves, reindeer, snowmen & the list goes on!
My title is CEO: Christmas Elf Online.
Merry Christmas!