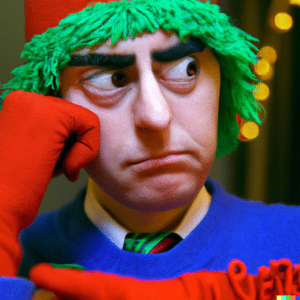 I told you about Donder, oops, I mean Donner, changing his name.
But, did you know people are changing my name?
I have many names around the world.  Some people call me Santa Claus.  And some call me Saint Nicholas.  Some call me Father Christmas or Père Noël.  Some even call me Kris Kringle.  And those are just a few of my many names!
But then there were those funny Disney movies.  First, there was "The Santa Clause".  After that movie, a few people thought I had changed my name so it had an "E" at the end, instead of just Claus.  That got my elf lawyers all befuddled.
Then, there was "The Santa Clause 2:  The Mrs. Clause".  Oh, my.  People thought I had a new wife called Mrs. Clause (again with an "E" at the end)!   My lovely real wife, Mrs. Claus, and her elf lawyers got all befuddled!
And then there was the last movie about the "The Escape Clause".  That is when I got all befuddled!  So with my pen, a silly poem I muddled!
A Santa Clause Poem To Give You Pause!
Would it give you pause,
If I was Santa Clause?
Would sleigh bells still jingle,
If I was ol' Cris Cringle?
Would it be a sad trick,
If I was not Saint Nick?
And if I had paws,
Would I be Santa Claws?
But until the North Pole thaws,
I hope people just call me,
Good ol' Santa Claus!
Yes, I wish people would call me Santa CLAUS.  After all, calling me "Clause" gets the elf lawyers all befuddled.  And there is nothing worse than a fuddled elf lawyer!  😊
Merry Christmas!
Santa Clause
Oops, I meant Santa Claus (they even have me doing it now! HHHOL!)
P.S.  Do you think I should change my name to Santa Clause?  (Scroll down to leave your message for me or to see what others have written!)
A right jolly old elf, in spite of myself. I love Christmas, children, the North Pole, Mrs. Claus, elves, reindeer, snowmen & the list goes on!
My title is CEO: Christmas Elf Online.
Merry Christmas!