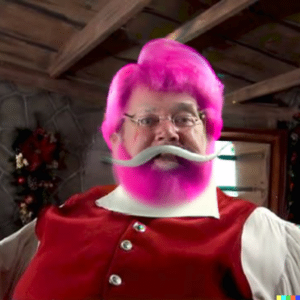 Santa wigs and beards,
My secret is weird!
Here's the story
of how Santa got sheared!
Can I tell you a secret? It's a big one! It's as big as a Christmas tree!
Some kids have been asking about my hair. They ask me why it looks different all the time. One day I have a nice long beard and then I suddenly have a short beard.
One day I have long straight hair under my hat. The next day my hair is all short and curly.
Some kids have even asked me, "Santa, are you wearing a wig?"
Well, I have to tell the truth!
Yes, SOMETIMES I do wear a wig! SOMETIMES I even wear a FAKE beard! Ahhh! I know! I can hardly believe it myself!
But, there is a reason!
Do you remember Clumsy the Elf?
Well, Clumsy LOVES playing with hair. He loves cutting it. He loves styling it. The elves even have a little saying:
Hair on your head?
Whiskers on chin?
Where ever it is,
It'll make Clumsy grin!
HHHOL!
I think if Clumsy wasn't an elf, he'd be a hairdresser!  It's just too bad that, well, I don't think he'd be a very good hairdresser!  (But please don't tell him I said that!)
Every chance he gets, he asks. "Looking shaggy today Santa. Can I cut your hair?". An hour later it will be, "Santa, your beard looks like it needs a trim too!"
Santa Wigs and Beards!
What can I say?  So of course I let him cut my hair or trim my beard.
One day he'll cut half my beard off.  (And by half, I mean only one side!).  The next day he'll shave my head, but just the hair on top!  It looks like I have a great big bald spot!  (Mrs. Claus hates when he does that!)
The only thing is, I don't want to hurt his feelings.  He really thinks he's doing a good job after all!  And he thinks he's being really fancy & creative too.
So Mrs. Claus had an idea.  "Clumsy the Elf gives you really bad hair cuts and whisker trims.  Why don't you let me cut the rest off and just wear a wig or fake beard?"
I was shocked!  Santa would never wear a wig or a fake beard!
Then she said, "But no one will recognize you if you have part of a beard on only half your face!"
So, I agreed.
At first I thought everyone would notice and make a big deal about it.  But, so far, everyone's been really nice!  (Although some kids still pull on my real beard to test it and that hurts! Ouch!)
So now, if you ever see me with a wig or pink hair, please don't laugh.  But at least you'll know who gave it to me!  (It's a really good thing my hair grows like magic)
Santa Claus
P.S. Have you ever cut or styled your own hair?  How did it turn out? Better than Santa wigs? You can click here to tell me or, scroll down to see what other people have cut, oops, I mean written!
A right jolly old elf, in spite of myself. I love Christmas, children, the North Pole, Mrs. Claus, elves, reindeer, snowmen & the list goes on!
My title is CEO: Christmas Elf Online.
Merry Christmas!