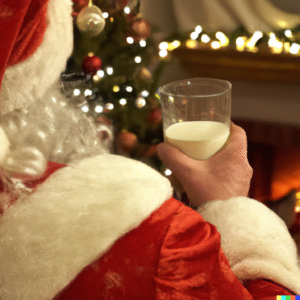 I just got a letter.  It asked which drink I liked best.  "Santa, you go all over the world.  What do you like better: cow, goat, or camel's milk?"
Keep reading to find out my answer to this great question!  (The answer might surprise you! 😉)
You can tell me what you like to drink too!  And what you do not like to drink too!
I have tried a lot of milk and other drinks.  I visit so many places and people.  At times, I cannot believe what I get with cookies on Christmas Eve!
There is milk from donkeys, sheep, reindeer, zebra, and even yak!  Have you ever tried water buffalo milk?
In the last few years, I even get soymilk.  Mrs. Claus likes this.  She says it is good for me!
Would Santa Drink Sour Drink?
I don't like just one drink on Christmas Eve.  I like to try all the things kids share with me.  It is fun trying new things!  Well, except maybe for milk that has gone sour! Even I have to say "Yuck!" to that!
Children enjoy Christmas in lots of ways around the world.  In Denmark, I get lots of Gløgg!  Does that sound funny?  At least it is not a lutefisk!
Many kids like to leave out what they like best.  I get hot cocoa and chocolate milk a lot.
One child even left pickle juice!  I was a little dizzy trying to fly my sleigh after that one.  I did not drink the beer and wine at the next few houses after that!
Merry Christmas!
Santa Claus
P.S. What do you like to drink at Christmas?  What is the worst thing to drink or eat at Christmas?   You can click here to tell me about it or scroll down to see what other people have written!
A right jolly old elf, in spite of myself. I love Christmas, children, the North Pole, Mrs. Claus, elves, reindeer, snowmen & the list goes on!
My title is CEO: Christmas Elf Online.
Merry Christmas!