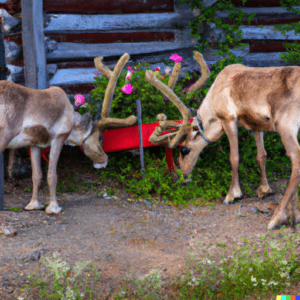 Did you know I have lots of reindeer that do not pull the sleigh?  Some people call them "Santa's other reindeer".
Well, today we had the first reindeer games tryouts.  There were many reindeer.  But, I can only use 9 special reindeer to pull my sleigh. I am sure you know the names of my most famous reindeer:
Now Dasher! Now Dancer! Now Prancer and Vixen!
On Comet! On Cupid! On Donner and Blitzen!
To the top of the porch! To the top of the wall!
Now dash away! Dash away! Dash away all!
And of course, there's Rudolph too!
It takes a very special reindeer to pull Santa's sleigh.  To begin, very few reindeer can fly!
They also have to be fast.  That is because we only have one night to deliver all the presents.
Likewise, they have to be strong.  That is because the sleigh is very heavy.
Santa's Other Reindeer Tryouts
The first reindeer practice is always a little funny to watch.  Of course all the reindeer try very hard.  But, well, like I said, it takes a very special reindeer to pull Santa's sleigh.
These are just some of my other reindeer.  And of course they were all at practice today.  But, they did not make the team.
– Chub-Chub could barely get off the ground;
– Bruno, the brown-nosed reindeer liked to be right behind Rudolph but couldn't stop very well;
– Tipsy kept falling off the roof;
– Blinker would fly for hours with his turn signal on;
– Tinkle had to stop for lots of potty breaks;
– Olive the other reindeer used to laugh and call Rudolph names;
– Pokey was too slow;
– Achoo had a red nose too, but she kept sneezing;
– Daisy and Rosie wanted to pick flowers at every stop;
– Krasher kept flying into buildings;
– Thumper kept waking people up when she was on the roof; and,
– Toots just putt-putted along;
Of course, I hope they will all try again next year.  After all, the more you practice the better you get!
Merry Christmas!
Santa Claus
P.S.  Do you think it would be fun to watch the reindeer practice?  Maybe you would?  Can you guess the names of Santa's other reindeer that don't pull the sleigh, and why?  (Scroll down to leave your message for me or to see what others have written!)
A right jolly old elf, in spite of myself. I love Christmas, children, the North Pole, Mrs. Claus, elves, reindeer, snowmen & the list goes on!
My title is CEO: Christmas Elf Online.
Merry Christmas!