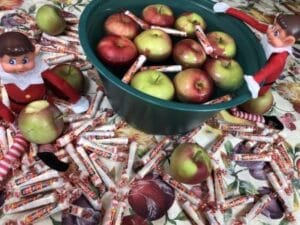 After Scunner scaring us all day yesterday we went to his party last night.
What a fun time we all had.
I went dressed as The Easter Bunny.
Keep reading to find out more about Scunner's Halloween Party.
Scunner started off the Halloween party games.  The first one was 'dooking for apples'.  Some of you will have played this.  You have to get an apple from a tub just by using your mouth.  My beard ended up soaking wet.
The next game was even messier.  Scunner had lots of scones that had been dripped in treacle.  Treacle is like honey.
These were tied in string and hung from the ceiling.  You have to catch these in your mouth.  Let me tell you it was so messy!  There was treacle all over everybody by the end of the game.  I had to use Mrs Claus' special shampoo to get my beard clean and fluffy again.
Then Scunner sat down to tell us all a ghost story.  It was pretty scary and we were all getting a little nervous.  Then, just before the scariest part Clumsy fell off his chair and landed backside first in one of the tubs of water.  The noise he made was so loud and unexpected that Scunner nearly jumped out of his boots.
"Help ma Boab", Scunner cried in shock.
Halloween Party Fun
For a second he looked very grumpy indeed.  Then he started laughing.  We all laughed and laughed too.
As we all started leaving for bed Scunner gave us all a bag of candy.  For a grumpy old elf he can be very, very nice.
Anyway, there is less than 55 sleeps to Christmas now.  So, it is going to be very busy indeed around here.
Did you have a good Halloween?  What did you do?  What did you dress up as?  Was it a good costume?
Merry Christmas!
Santa Claus
P.S.  Did you have a good Halloween?  Did you dress up as Scunner?  You can click here to tell me or scroll down to see what other people have written!
A right jolly old elf, in spite of myself. I love Christmas, children, the North Pole, Mrs. Claus, elves, reindeer, snowmen & the list goes on!
My title is CEO: Christmas Elf Online.
Merry Christmas!