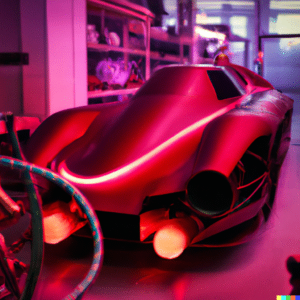 Oh Boy, I am very excited today.  Let me tell you why.
Scunner came to see me this morning.  He looks so funny in his white lab coat.  It is too long and all you can see below it are his big feet.
'Santa, we have a surprise for you.' He said with excitement.
I followed him down to Professor Fumblebumble's laboratory. Well, I must admit I was quite curious.
I don't know if you know this, but there are more and more children each year.  Sometimes I struggle to make all my visits on time.
Santa's Super Sleigh
So, Scunner and the Professor have made me a new sleigh.  It is so fast looking.  It can hold the same amount of toys but is designed for speed.
'With this you can go almost twice as fast as usual, Santa.' Scunner said as he patted the side of the sleigh.
I heard the Professor speak but I couldn't see him anywhere.
'I'm sorry Professor, I can't hear what you are saying?' I said.
Suddenly the Professor's head popped out from under Scunner's coat.  He had been working under the new sleigh.
'This has been designed the same way that Space Rockets are.' He smiled, his hair, as always, standing on end.  'It will be so fast that you will have to hang onto your beard.'
I wanted to try it out but Scunner shook his head.
'We haven't put seatbelts in it yet Santa.'
Seatbelts?  In my Sleigh?
I must admit I am worried but excited.  I am going for a test flight as soon as they have finished.
Merry Christmas!
Santa Claus
P.S.  What ideas do you have to make my journey faster?  You can click here to tell me about it or, scroll down to see what other people have written!
A right jolly old elf, in spite of myself. I love Christmas, children, the North Pole, Mrs. Claus, elves, reindeer, snowmen & the list goes on!
My title is CEO: Christmas Elf Online.
Merry Christmas!